This power, dissipated as heat, requires the use of often larger and more expensive high wattage resistors that employ special thermal technology, such as heat-sink mounting and exposed metallic pads for heat dissipation. This power loss also makes the solution energy-inefficient, an increasingly important consideration in portable electronics and eco-friendly design.
Improved current sensing with integrated hall technology
Another drawback of sense resistor techniques is they often lead to a volume penalty in the application PCB, because thermal considerations have to be taken into account when so much energy is being dissipated as heat. Figure 1 compares the minimum volumes and PCB footprints occupied by a typical sense resistor (TO-220) and op-amp (SOT-23) solution, with PCB consumption by Integrated Hall-effect based current sense techniques (QFN and SOIC).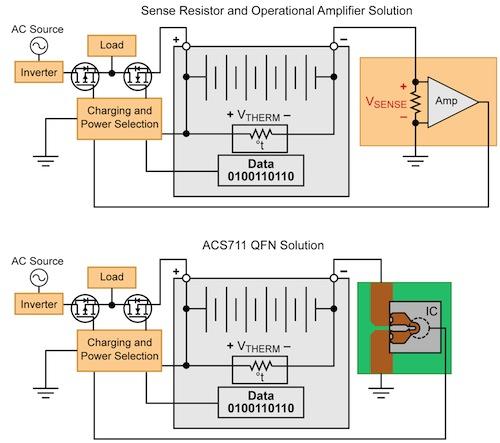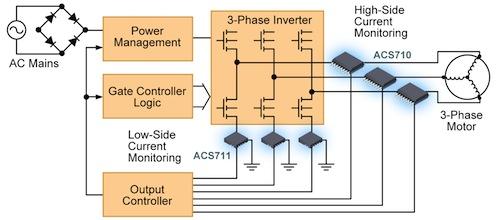 Allegro's integrated Hall-effect current sensor ICs use patented flip-chip technology, illustrated in figure 2, to integrate a high-accuracy, current-carrying conductor into an area- and thermally-efficient, monolithic package. Current flows in and out of the package through the primary conductor loop. This current generates a magnetic signal that is sensed by the Hall transducer, shown as the red square in figure 2, and is converted to a voltage.
The Hall voltage is galvanically isolated from the primary current, and is dependent on the direction of the current flow, allowing for bi-directional current sensing in both AC and DC modes. The transducer is placed in the area of highest flux density to optimize the magnetic coupling. Since the die surface with the Hall element is now closest to the primary conductor, this approach optimizes transducer sensitivity and accuracy.
The magnetic field generated by current flowing through a conductor is not temperature-dependent. As a result, the integrated Hall approach has one less temperature-dependent error term compared to the sense resistor and amplifier technique. The conductor resistance of integrated Hall ICs is as low as 0.6 mΩ, an order of magnitude smaller than most sense resistors employed in low-side sensing configurations. This saves power consumption in customer applications, and provides a higher efficiency and more eco-friendly solution.
The small footprint also saves PCB area, thereby reducing overall system cost. Table 1 compares the area and power dissipation for a 30A continuous current sense application for a sense resistor and amplifier solution, and Allegro's ACS711 QFN and ACS710 Hall effect ICs.