In the early phases of the development process -- CAD modeling and perhaps 3D printing of prototypes -- design engineers can create virtually anything, but that doesn't mean the design can be cost-effectively molded. Injection molding is a wonderfully flexible technology, but it does have limitations and requirements. For example, the ease with which a resin flows helps determine how thin the walls can be through which the resin must pass. The rate at which a particular resin shrinks as it cools affects the likelihood of "sink" in thick areas, and also affects the need to correct the problem by thinning the feature or coring it out.
Various tools can help determine how effectively a mold will fill. At Proto Labs, we use proprietary flow analysis software to simulate mold filling to help determine gate placement. In some cases, the analysis is shared with customers to highlight the need for design changes.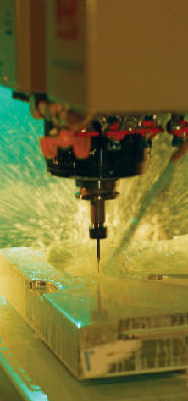 Next comes the need to eject the cooled part from the mold. Draft, or the tapering of part walls, is essential if parts are to be ejected without damage to the part or the mold. An undrafted part is like that stubborn block of gelled cranberry sauce in its can, except you can't use a spoon to extricate a part from a mold. A drafted part, on the other hand, is like moist sand in a tapered beach bucket: it pulls away from the container walls the moment it begins to move and is easily ejected. Draft is also critical to prevent damage to the mold at "sliding shutoffs." These are areas where A- and B-side mold surfaces slide against one another to create a seal.
As parts get more complicated, molds do, too. A part with one or more undercuts -- a coffee mug with a C-shaped handle, for example -- cannot be made in a simple two-part mold. The solution is a sliding cam or "side action" within the mold that forms the indented part, and then is withdrawn before the mold is opened. Side actions add to the cost of molding but greatly increase the designer's freedom in creating parts.
Even among injection molders technology and capabilities vary. The more design engineers know about their requirements and those of their molders, the better, faster, and more economically they can have parts made. Traditional injection molding is designed to produce complex parts in very large numbers. Making the necessary steel molds is a painstaking process that can take weeks or months and cost tens of thousands of dollars.
At the other end of the spectrum there are faster, less costly injection molding processes that can produce parts literally overnight at a fraction of the cost. Proto Labs, for example, uses proprietary software to mill aluminum molds directly from customers' 3D CAD models. The molds can produce parts from any of hundreds of resins and economically produce dozens, hundreds, or thousands of parts. But the process has a few more limitations in the size and complexity of parts than traditional molding does.
The improved economies of scale of this kind of rapid injection molding have radically changed the place of molding in the product development process. Injection molding can now be used in the early stages of product development to begin functional testing with real molded parts, and for early market testing. Previously, functional testing couldn't begin until steel production molds had been made, at which point the cost of rework could be crippling. Now, with rapid injection molding, developers need not order steel molds until designs have been fully tested and proven. They can also use rapid injection molding in aluminum molds for "bridge tooling" and take products to market while steel molds are being produced for large-scale production.
Injection molding can be a powerful tool for both prototyping and production. General guidelines like drafting features and maintaining uniform wall thickness apply to all injection molding processes. Other requirements may vary among producers. For the most effective use of this technology, design engineers should take the time to understand capabilities and costs when comparing vendors. If possible, they should also consider the benefits of producing molded parts and begin functional testing as early as possible in the design process.
— Tony Holtz is customer service engineer lead for Proto Labs.
Related posts: