He elaborates on the concept: "Our task was to optimize the coil in each side so that the end product would be as effective as a cable-based system. We used multiphysics simulation for the electromagnetic simulation (see figure 2) of different options such as a ground plate partnered with a coil on the underside of the car, and a mounting on the wall partnered with a coil placed behind the number plate. It simply would not have been possible to develop this type of product without simulation."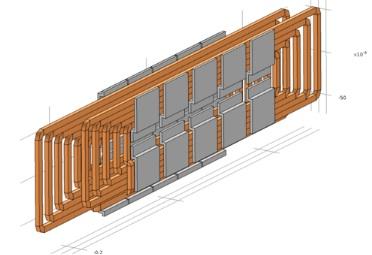 Smartphone expectations
Richwin cites another industry trend: minimizing the use of mechanical switches, as these are both complicated and vulnerable to fluid entry. At the same time, customers used to smartphones and tablets now expect similar touchpad-style sensors in a car. The transfer of this technology into cars is, however, not straightforward.
Interaction with a smartphone is strongly visual; the user must look at a screen. In a car, though, there must be nothing that distracts the driver from driving, so user feedback has to be nonvisual. In addition, the environment of a car is complex because its interior is densely packed with driver interface functions. Extremes of temperature, moisture, and dust according to location and climate pose further demands on components.
According to Richwin, capacitive sensors present various challenges: "We have to consider the potential for many different sizes of fingers and thumb pads, and the presence of additional material, such as a glove or hand cream. Then we have to decide on the level of sensitivity, whether we want proximity, whereby a finger has not yet touched a surface but is within a few centimeters; actual touch; or a combination, in which the sensor first detects the approach of a finger and then registers the touch."
The general aim is to make the sensor covering as thin as possible, which means that the team is looking for reliable and predictable performance from a plastic surface that is just 1 mm thick. Simulation is used to maximize sensitivity by optimizing the dimensions of the sensor, which lies on the PCB (see figure 3). KOSTAL Group is also developing new surface materials; for example, pre-manufactured plastic foil on which the conductive structure could be printed to allow more flexibility and increase reliability.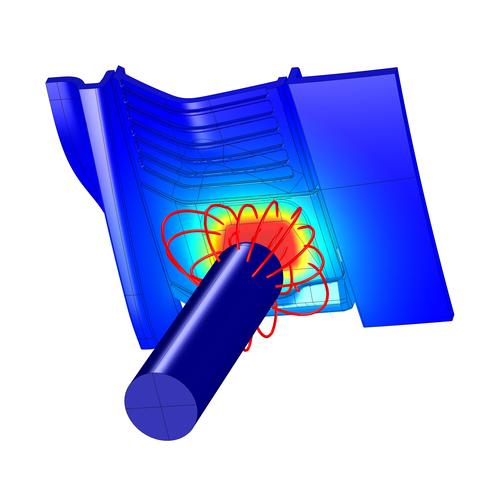 Simulation spurs innovation
Richwin says, "The use of multiphysics simulation software enables us to check the feasibility of a technical concept very quickly, then optimize the quality, robustness, and cost of a product in development. We also save money by reducing the number of physical prototypes. However, it is in innovative areas such as inductive power transfer and capacitive sensor design that simulation becomes truly indispensable, because the alternatives are impossibly expensive or time-consuming."
The COMSOL Group provides software solutions for multiphysics modeling. The company was founded in July 1986 in Stockholm, Sweden and now has offices in the US and countries around the world. For more information, go to www.comsol.com.