Tin, tungsten, tantalum, and gold, also known as 3TG, are essential for manufacturing in a number industries including electronics, jewelry, industrial manufacturing, automotive, and aerospace. They are abundant in the Democratic Republic of Congo (DRC), a country that, since the late 1990s, has been experiencing civil conflict that has claimed more than 5 million lives and created a humanitarian crisis. Armed militias in the DRC and its nine neighboring countries are mining and selling these resources to help fund their activities, often resorting to violence and forced labor to obtain the minerals that produce 3TG. They have been dubbed "conflict minerals," and are under continued scrutiny as governments attempt to curb their usage and stifle the militia groups financially.
In the US, section 1502 of the Dodd-Frank Act, known as the Conflict Minerals Act, requires publicly traded companies to disclose the origin of these minerals in their products with the Securities Exchange Commission. Any publicly traded company must provide detailed accounts of where any of the minerals in question originated and whether they are deemed essential to the functionality or production of a product. There is no de minimis, or "virtually safe," level or classification to exempt a company from reporting. Public companies will require their supply chain providers to account for these minerals to ensure their SEC reports are accurate.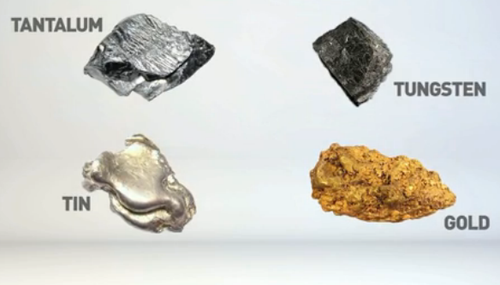 There are four steps publicly traded companies (referred to as "issuers") need to follow in regard to conflict minerals. First, and foremost, is determining whether the Conflict Minerals Act applies. If applicable, issuers will need to take steps to determine the minerals' country of origin and sources. All findings must be reported in their SEC filings through a form SD.
1. Determine Applicability
There are two items in determining whether the Conflict Minerals Act applies to a given product. First is to determine whether the product contains tin, tungsten, tantalum, or gold. If it does contain any of the minerals, an additional step is required: establishing whether the minerals are necessary to the functionality or production of the product.
The issue of functionality requires issuers to assess whether the mineral in question was added intentionally to the product or is a component of the end-product. It is also necessary to determine whether the mineral was needed for one function, use, or purpose of the finished product or was used for decorative purposes.
Production necessity requires issuers to determine where the mineral was included in the production process, whether the mineral is required for production, and whether it is included in the final product. It does not apply to tools, machines, or equipment used in creation, and catalysts used during manufacturing that do not remain in the product are exempt, as well.
2. Conduct Reasonable Country of Origin Inquiry
An issuer must conduct a Reasonable Country of Origin Inquiry (RCOI) in order to determine whether the minerals in a product came from the DRC or the nine surrounding countries (Central African Republic, Congo, Angola, South Sudan, Uganda, Rwanda, Burundi, Tanzania and Zambia). The inquiry must be performed in good faith; however, the SEC does not specify what steps must be taken to satisfy an RCOI, nor does it specify satisfactory outcomes. Each issuer's circumstances and the evidence provided are evaluated individually.
MORE FROM DESIGN NEWS: Turning to Software to Identify Conflict Minerals in the Supply Chain
Most companies conduct an RCOI via a thorough assessment of materials, asking suppliers to do the same. Once the assessments are complete, data can be collected, validated, and compared to determine the country of origin. If, at this point, it's determined that the minerals did not originate in the DRC or surrounding countries, or that they are from scrap/recycled sources, the issuers merely need to report on the RCOI process. However, if it appears the minerals in the supply chain are, or may be, from covered countries, the company must undertake due diligence and file a conflict minerals report.
3. Conduct Due Diligence
Issuers are required to conduct due diligence on the source and chain of custody of any minerals that cannot be proven to be conflict-free based on the RCOI. The process for due diligence must be based on national or internationally recognized standards, as well as the individual facts and circumstances for each issuer, product, and supply of minerals. This due diligence is separate from the RCOI and intended to determine whether the minerals from the questionable region are conflict-free.
Steps for the due diligence process may include (but are not limited to) validating unknown smelters or refiners, reviewing validated smelters or refiners to identify which has been deemed to be conflict-free through auditing, putting forth a reasonable effort to determine the status of remaining smelters/refiners as conflict-free, and verifying supplier information through traceability audits.
There are industry associations and groups that can facilitate the due diligence process in determining the conflict mineral status of suppliers. The Conflict Free Sourcing Initiative (CFSI) is a joint effort that audits suppliers to determine if they are conflict-free. CFSI maintains a list of valid smelters and refiners. The London Bullion Market Association and US State Department also maintain lists of valid suppliers. None of these lists is exhaustive.
4. Report Findings
If an RCOI or due diligence report indicates that the minerals are not sourced from covered countries or are from recycled or scrap sources, issuers must describe their RCOI process and due diligence (if applicable) in a Form SD, which they must file annually with the SEC. If an issuer finds the minerals are sourced from covered countries and are not from recycled or scrap sources, they must file a Conflict Minerals Report (CMR) as an exhibit of Form SD.
The CMR must include country of origin of conflict minerals; any effort made to determine the mine or location of origin with greatest possible specificity; facilities used to process conflict minerals, such as the smelter or refinery; and a description of any product that is not DRC conflict-free. The CMR does not have to be overly specific, but should address each of these aspects.
MORE FROM DESIGN NEWS: Manufacturers and Companies Are Struggling with Conflict Minerals Reporting
In addition to disclosing their reporting processes and findings to the SEC, issuers must report their findings to the public via their company websites. As publicly traded companies must account for all of the materials in their products, they may require any company in their supply chains to conduct RCOI, due diligence, and CMR activities for the final SEC filings.
By June 2016, all companies that file with the SEC must be in compliance with the Conflict Minerals Act, and the reach extends to companies in their supply chains. Determining product applicability will streamline RCOI efforts. Aligning a company's process with the applicable guidelines will also help ensure an acceptable, successful program is in place for addressing conflict minerals.
Matt Quinn is Business Development Manager, Chemical Services at Intertek. For more than 10 years, he has been assisting companies -- from SMEs to global organizations -- in identifying global environmental requirements and implementing effective compliance solutions. Matt has helped organizations create internal programs to address ever-growing requirement, such as RoHS, REACH, WEEE, Prop 65, and conflict minerals. These programs help identify specific requirements for these regulations, as well as the necessary risk mitigation and strategies to address compliance in line with industry best practices.