Gears provide two main functions in motion control systems. In power systems, they match the relatively low-speed, high-torque requirement of the load to the high-speed, low-torque, high-efficiency operation of the motor. Precision systems focus on transmitting motion as accurately and as repeatedly as possible, as needed in robotic systems.
When the lessons of achieving higher precision are applied to power systems, greater efficiency, lower noise, and longer life can be achieved. As stronger and more wear-resistant materials and better lubricants are continually being developed, there is an ever-present need for new gears to be designed to pack more power into less space.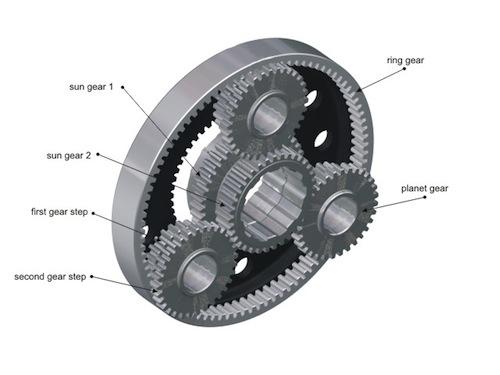 In addition, micro-electro-mechanical system (MEMS) researchers are creating gears to solve the same problems that they face in the macro world. World-renowned MIT design educator Alex Slocum relates an interesting anecdote. When a student design team was asked how their human-powered system was going to generate the required 600W power, when a human can only comfortably continuously generate about 100W, they replied "we will use gears." The Laws of Thermodynamics still apply, even to gears!
The most frequently used gearings in high-performance, closed-loop servo systems are spur gearing and planetary gearing. In spur gearing, the smaller gear is usually mounted on the input shaft and the larger gear is connected to the output shaft. A single pass is usually applicable to no more than a 15:1 ratio. Larger ratios are accomplished by using more passes.
One deficiency of the basic spur gear design is that in its simplest configuration, the input and output shafts are not in line. Multi-pass unit design overcomes this. Precision spur gearing is available with 98% efficiency up to a 100:1 ratio. Planetary gearing is a unique arrangement in which a set of four gears concentrically arranged around an in-line input/output shaft alignment is capable of providing much higher torque capacity in the same volume as a spur gear assembly. The three planet gears are driven by the sun gear (input) and are captured by the ring gear, which is machined into the gearhead housing. The three planets are in turn mounted on a spider assembly whose center becomes the output shaft. Planetary gears can be fabricated in a multi-pass arrangement.
In approximately the same volume, the planetary gearing, compared to the spur gearing, can provide five to six times the torque, has a bearing structure that can support an average of 30 times the axial load and 15 times the radial load, and has an average of one-fifth the backlash (the angle through which the shaft is rotated under the condition of no transmitted torque).
One doesn't have to look at complex machinery to find innovative gearing design. The Rohloff Bicycle Speedhub is a planetary gear system. It has a gear range of 526% and the 14 gears shift in even increments of 13.6%. Machine design will never cease to provide opportunities for innovative-thinking engineers.
Related posts: