Capacitive touch systems are clearly superior to resistive touch systems. Resistive touch systems break down and wear out due to their moving parts. The majority of resistive touch systems also canít effectively distinguish multi-touch interaction with a user. Legacy capacitive touch systems used self-capacitance sensing (Figure 1). They donít wear out, and they can support multi-touch gestures as long as you donít rotate your touch points or get them too close together.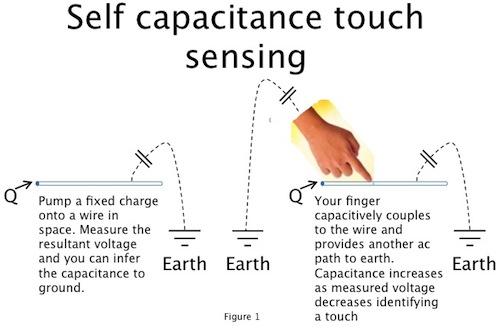 After the iPhone popularized pinch and rotate gestures in 2005, system designers have used mutual capacitive sensing to determine multiple touch points and gestures (Figure 2). The drawback of mutual capacitive sensing is that it takes longer to do the measurement and, hence, uses more power. If you use a dual-architecture chip that can do both schemes, you can provide both lower power and good multi-touch accuracy. While self-capacitive systems are less affected when thereís a drop of water on the screen, mutual systems can be significantly affected by moisture. To get the best touch screen, you benefit from both sensing schemes.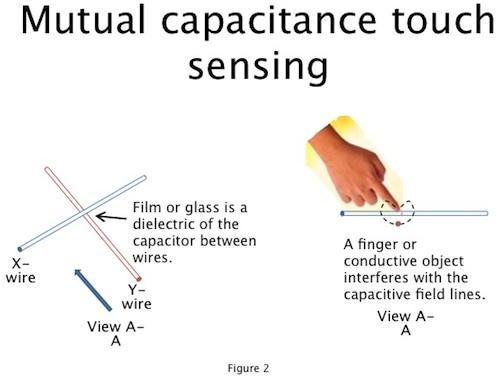 Legacy capacitive touch screens rely on self-capacitance sensing. Any wire in space will have a capacitive coupling to earth ground. In one instantiation a self-capacitance touch IC will dump a fixed charge on all the wires that run in the X-direction. That charge reacts against the capacitance to earth and creates a voltage. The touch chip will then measure that voltage. If your finger is touching the display, those wires will have an additional capacitive path to earth ground. Now the effective capacitance of that wire is increased, and the resultant voltage for the fixed charge injection on the wire will be less (Figure 3).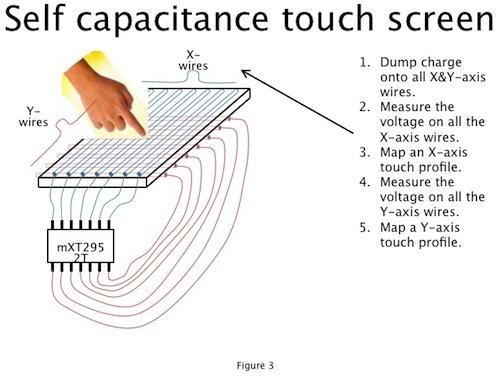 More Blogs from Guest Blogs

1
More often than not, with the purchase of a sports car comes the sacrifice of any sort of utility. In other words, you can forget about a large trunk, extra seats for the kids, and more importantly driving in snowy (or inclement) weather. But what if there was a vehicle that offered the best of both worlds; great handling and practicality?

2
As additive manufacturing (including 3D printing) becomes increasingly popular among businesses as a quick and easy solution to creating and evaluating prototypes and end-use products, the debate about whether to outsource production or to purchase equipment for in-house use is at the forefront of industry discussions.
With increasing terrorist threats overseas, organizations are thinking about how best to defend themselves here and abroad. Engineering can play a role, especially when it comes to putting a barrier between yourself and the bad guys.
Time to market is everything, but at the same time, you canít sacrifice quality for speed. Thatís where additive manufacturing comes into play.
In the last few years, use of CFD in building design has increased manifolds. Computational fluid dynamics is effective in analyzing the flow and thermal properties of air within spaces. It can be used in buildings to find the best measures for comfortable temperature at low energy use.

Focus on Fundamentals consists of 45-minute on-line classes that cover a host of technologies. You learn without leaving the comfort of your desk. All classes are taught by subject-matter experts and all are archived. So if you can't attend live, attend at your convenience.
Last Archived Class