Capacitive touch systems are clearly superior to resistive touch systems. Resistive touch systems break down and wear out due to their moving parts. The majority of resistive touch systems also canít effectively distinguish multi-touch interaction with a user. Legacy capacitive touch systems used self-capacitance sensing (Figure 1). They donít wear out, and they can support multi-touch gestures as long as you donít rotate your touch points or get them too close together.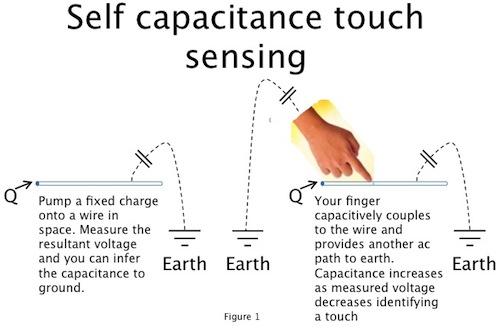 After the iPhone popularized pinch and rotate gestures in 2005, system designers have used mutual capacitive sensing to determine multiple touch points and gestures (Figure 2). The drawback of mutual capacitive sensing is that it takes longer to do the measurement and, hence, uses more power. If you use a dual-architecture chip that can do both schemes, you can provide both lower power and good multi-touch accuracy. While self-capacitive systems are less affected when thereís a drop of water on the screen, mutual systems can be significantly affected by moisture. To get the best touch screen, you benefit from both sensing schemes.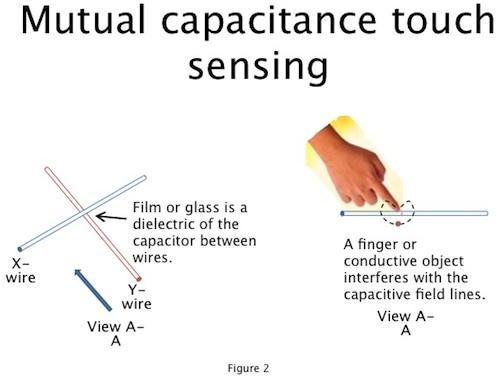 Legacy capacitive touch screens rely on self-capacitance sensing. Any wire in space will have a capacitive coupling to earth ground. In one instantiation a self-capacitance touch IC will dump a fixed charge on all the wires that run in the X-direction. That charge reacts against the capacitance to earth and creates a voltage. The touch chip will then measure that voltage. If your finger is touching the display, those wires will have an additional capacitive path to earth ground. Now the effective capacitance of that wire is increased, and the resultant voltage for the fixed charge injection on the wire will be less (Figure 3).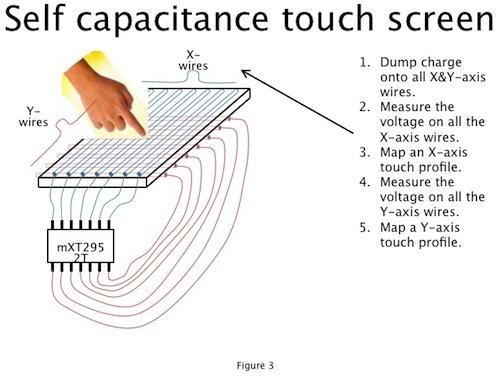 More Blogs from Guest Blogs

0
The standards electrical machines and components are required to meet in the food processing industry are far more stringent than those in traditional plant construction. For specialized production environments such as these, components must not only resist thermal and physical stresses, but they must also be resistant to the chemicals used to sterilize equipment.

5
The word ďsmartĒ is becoming the dumbest word around. It has been applied to almost every device and system in our homes. In addition to smartphones and smart meters, we now hear about smart clothing and smart shoes, smart lights, smart homes, smart buildings, and every trendy city today has its smart city project. Just because it has a computer inside and is connected to the Web, does not mean it is smart.

1
Was Steve Jobís signature outfit of a black turtleneck, jeans, and sneakers the secret behind his success? Maybe, or maybe not, but it was likely an indication of a decision-making philosophy that enabled him to become one of the most successful innovators of all time.

0
Electromechanical actuators and propulsion system enable the first controlled landing and ascent from a solar system body other than the moon.

2
Combining energy-saving product design and advanced lithium batteries enables wireless devices to operate maintenance-free for up to four decades.

Focus on Fundamentals consists of 45-minute on-line classes that cover a host of technologies. You learn without leaving the comfort of your desk. All classes are taught by subject-matter experts and all are archived. So if you can't attend live, attend at your convenience.