After the touch chip measures voltage on all the x-axis wires, it does the same for the y axis. Now, software has an easy time determining the position of a single touch. It just uses the x- and y-axis data to infer an X-Y touch position (Figure 4). The fact that the chip can excite and then measure all the axis wires at once means this is a fast operation. It also takes little power.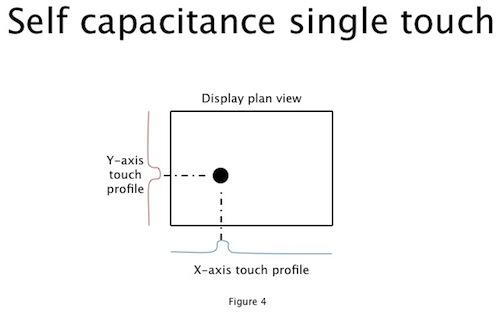 Now look at the problem with multi-touch (Figure 5). Here you see two capacitance changes on the x-axis and two on the y-axis. But those events on two axes can map into four potential points. By using hysteresis and amplitude, you can infer the true points. But this only works if the two touch points are far apart. When your fingers pinch together, the data becomes corrupted and you can't tell which two of the four possible points are the valid ones.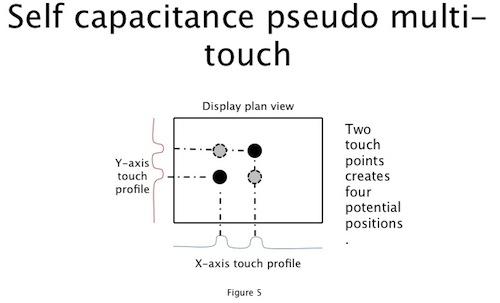 This problem led system designers to adopt mutual capacitive sensing (Figure 6). Here, you aren't measuring capacitance from a wire to earth ground. With mutual capacitive sensing you're measuring the capacitance between an x-wire and a y-wire. When you get a finger or conductive stylus near the intersection of the x and y wires, it will interfere with the field lines between those two wires. While there are strong lines between the two wires right where they cross, the field lines also extend in a sphere around the crossing point. It's those "fringe" field lines that you interfere with as you touch or get near the display.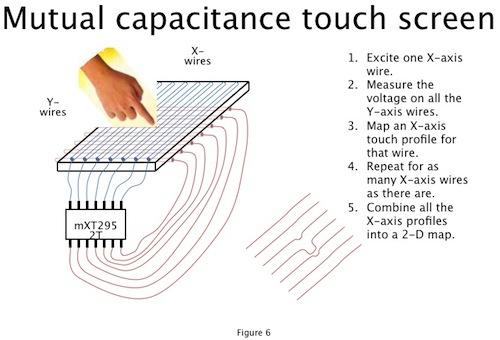 Philo T. Farnsworth invented raster television while he was plowing a field. Mutual capacitance touchscreens are interrogated much like a raster system. They have the benefit of being able to control or measure every point on the 2D field. The downside is that it takes a long time and a lot of energy to plow that field. If you have a big display, you need lots of x- and y-axis wires. You have to excite each x-wire individually, and then measure all the y-axis wires simultaneously. Then you move to the next X-axis wire. Still, modern chips can handle 15.6-inch screens with one chip and even larger displays with multiple chips.
This is where combining both architectures in the same chip can offer real benefits. Your system can use low-power self-capacitance sensing as a default. If it senses a single touch, that's a task that self-capacitance systems excel at. But if the self-capacitance result has multiple touch points, or closely spaced or rotating touch points, it can then switch into mutual capacitive sensing and determine true finger position.
Shar Narasimhan is a senior product marketing manager for Atmel's maXTouch marketing team.
Related posts: