Capacitive touch systems are clearly superior to resistive touch systems. Resistive touch systems break down and wear out due to their moving parts. The majority of resistive touch systems also canít effectively distinguish multi-touch interaction with a user. Legacy capacitive touch systems used self-capacitance sensing (Figure 1). They donít wear out, and they can support multi-touch gestures as long as you donít rotate your touch points or get them too close together.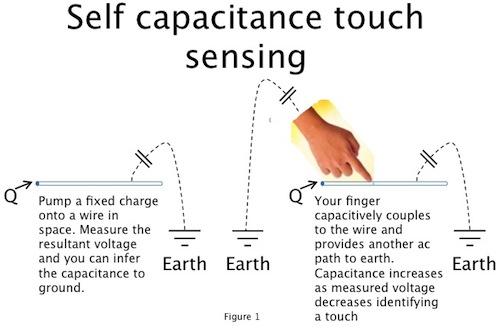 After the iPhone popularized pinch and rotate gestures in 2005, system designers have used mutual capacitive sensing to determine multiple touch points and gestures (Figure 2). The drawback of mutual capacitive sensing is that it takes longer to do the measurement and, hence, uses more power. If you use a dual-architecture chip that can do both schemes, you can provide both lower power and good multi-touch accuracy. While self-capacitive systems are less affected when thereís a drop of water on the screen, mutual systems can be significantly affected by moisture. To get the best touch screen, you benefit from both sensing schemes.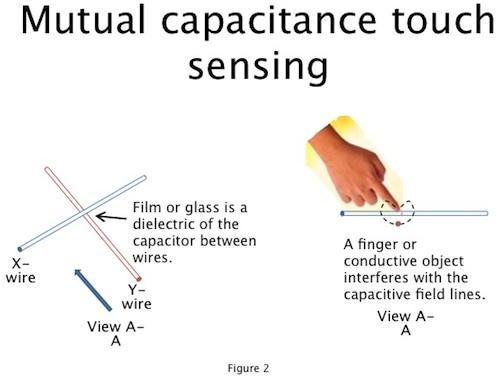 Legacy capacitive touch screens rely on self-capacitance sensing. Any wire in space will have a capacitive coupling to earth ground. In one instantiation a self-capacitance touch IC will dump a fixed charge on all the wires that run in the X-direction. That charge reacts against the capacitance to earth and creates a voltage. The touch chip will then measure that voltage. If your finger is touching the display, those wires will have an additional capacitive path to earth ground. Now the effective capacitance of that wire is increased, and the resultant voltage for the fixed charge injection on the wire will be less (Figure 3).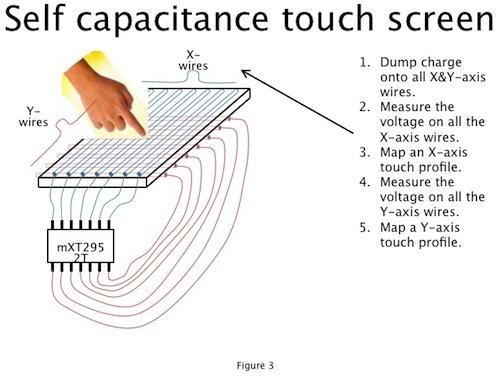 More Blogs from Guest Blogs
Manufacturers of plastic parts recognize the potential of conformal cooling to reduce molding cycle times. Problem is, conformal molds require additive manufacturing (AM), and technologies in that space are still evolving. Costs also can be high, and beyond that, many manufacturing organizations lack the knowledge and expertise needed to apply and incorporate additive technologies into their operations.
Machine vision and video streaming systems are used for a variety of purposes, and each has applications for which it is best suited. This denotes that there are differences between them, and these differences can be categorized as the type of lenses used, the resolution of imaging elements, and the underlying software used to interpret the data.

1
In the face of growing challenges for embedded technology engineers, designers should actually be designing for a new IoT -- the Internet of Tomorrow.
As todayís product design cycles are held to tighter schedules and budget constraints, itís becoming even more critical to consider human factors up front to catch and fix problems during the initial development stages, when itís faster and less costly to do so. Overlooking human factors at the beginning of the design cycle could lead to poor user experience, a decrease in effective product performance, and an increase in safety risk to the user.

1
Plastic part manufacturers are always looking for ways to reduce cycle time and get more productivity out of their injection molding machinery. One of the longstanding constraints in injection molding production has been cooling time. Removing parts from the mold before they have cooled induces warping or shrinking. But wait time works against productivity.

Focus on Fundamentals consists of 45-minute on-line classes that cover a host of technologies. You learn without leaving the comfort of your desk. All classes are taught by subject-matter experts and all are archived. So if you can't attend live, attend at your convenience.
Last Archived Class