Capacitive touch systems are clearly superior to resistive touch systems. Resistive touch systems break down and wear out due to their moving parts. The majority of resistive touch systems also can't effectively distinguish multi-touch interaction with a user. Legacy capacitive touch systems used self-capacitance sensing (Figure 1). They don't wear out, and they can support multi-touch gestures as long as you don't rotate your touch points or get them too close together.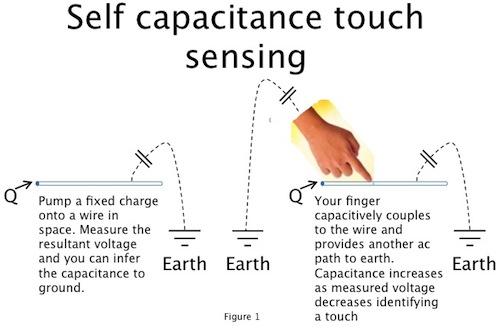 After the iPhone popularized pinch and rotate gestures in 2005, system designers have used mutual capacitive sensing to determine multiple touch points and gestures (Figure 2). The drawback of mutual capacitive sensing is that it takes longer to do the measurement and, hence, uses more power. If you use a dual-architecture chip that can do both schemes, you can provide both lower power and good multi-touch accuracy. While self-capacitive systems are less affected when there's a drop of water on the screen, mutual systems can be significantly affected by moisture. To get the best touch screen, you benefit from both sensing schemes.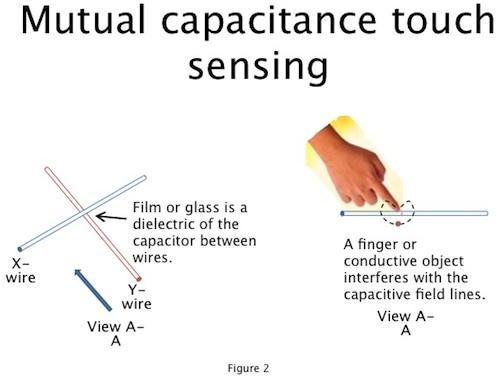 Legacy capacitive touch screens rely on self-capacitance sensing. Any wire in space will have a capacitive coupling to earth ground. In one instantiation a self-capacitance touch IC will dump a fixed charge on all the wires that run in the X-direction. That charge reacts against the capacitance to earth and creates a voltage. The touch chip will then measure that voltage. If your finger is touching the display, those wires will have an additional capacitive path to earth ground. Now the effective capacitance of that wire is increased, and the resultant voltage for the fixed charge injection on the wire will be less (Figure 3).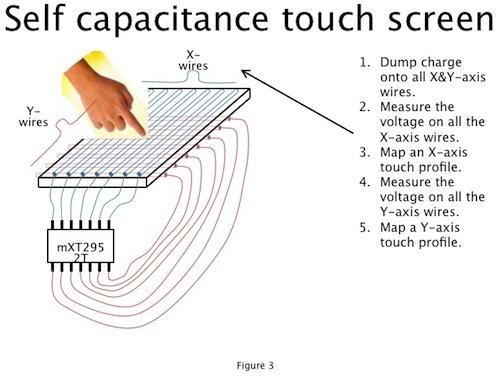 More Blogs from Guest Blogs
FPGAs use programmable fabric to create custom logic, but this flexibility comes at a cost -- usually around 10 times more silicon real estate and 10 times the power dissipation. Can we really claim any FPGA is low power?
"How can European standards affect me, especially since I only use machines built in the US?" This is a common question, and one way to answer this is to look at how machine safety is enforced, where the information comes from, and how well you can prove you followed the regulations.
In order to keep in line with safety protocols, industrial networks need to be filtered in a semantic way so that only information related to diagnostics is flowing back to the vendor and that any communications that could be used for remote machine operations are suppressed.
While people may talk about the procurement process, the procurement discipline actually encompasses a number of different processes. They include spend analysis, supplier relationship management, and contract management, just to name a few.
As the Industrial Internet of Things and machine-to-machine communications movements gain speed, some companies are asking themselves, "Wait. How much information do we really want to flow in and out of our premises? Aren't we supposed to be doubling down on cyber security?"

Focus on Fundamentals consists of 45-minute on-line classes that cover a host of technologies. You learn without leaving the comfort of your desk. All classes are taught by subject-matter experts and all are archived. So if you can't attend live, attend at your convenience.
Next Course June 2nd-4th: