Capacitive touch systems are clearly superior to resistive touch systems. Resistive touch systems break down and wear out due to their moving parts. The majority of resistive touch systems also can't effectively distinguish multi-touch interaction with a user. Legacy capacitive touch systems used self-capacitance sensing (Figure 1). They don't wear out, and they can support multi-touch gestures as long as you don't rotate your touch points or get them too close together.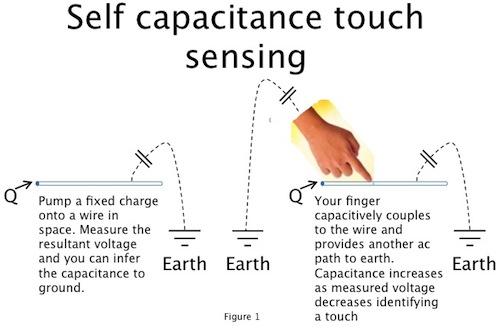 After the iPhone popularized pinch and rotate gestures in 2005, system designers have used mutual capacitive sensing to determine multiple touch points and gestures (Figure 2). The drawback of mutual capacitive sensing is that it takes longer to do the measurement and, hence, uses more power. If you use a dual-architecture chip that can do both schemes, you can provide both lower power and good multi-touch accuracy. While self-capacitive systems are less affected when there's a drop of water on the screen, mutual systems can be significantly affected by moisture. To get the best touch screen, you benefit from both sensing schemes.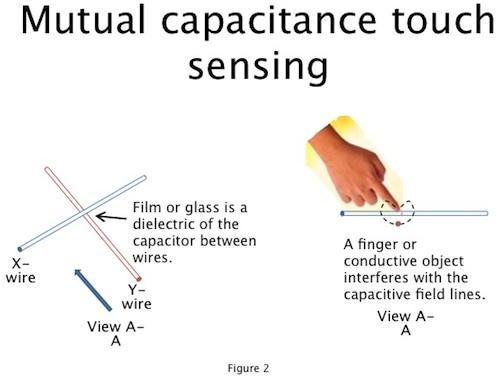 Legacy capacitive touch screens rely on self-capacitance sensing. Any wire in space will have a capacitive coupling to earth ground. In one instantiation a self-capacitance touch IC will dump a fixed charge on all the wires that run in the X-direction. That charge reacts against the capacitance to earth and creates a voltage. The touch chip will then measure that voltage. If your finger is touching the display, those wires will have an additional capacitive path to earth ground. Now the effective capacitance of that wire is increased, and the resultant voltage for the fixed charge injection on the wire will be less (Figure 3).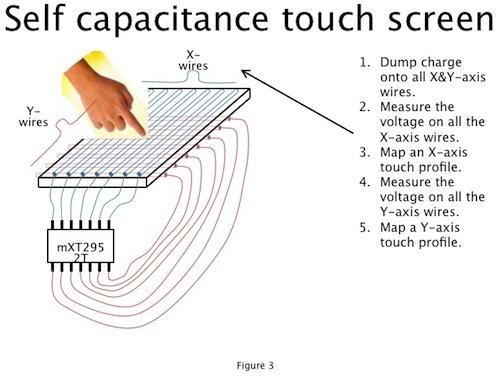 More Blogs from Guest Blogs

1
Iterative design — the cycle of prototyping, testing, analyzing, and refining a product — existed long before additive manufacturing, but it has never been as efficient and approachable as it is today with 3D printing.

0
People usually think of a time constant as the time it takes a first order system to change 63% of the way to the steady state value in response to a step change in the input -- it's basically a measure of the responsiveness of the system. This is true, but in reality, time constants are often not constant. They can change just like system gains change as the environment or the geometry of the system changes.

4
At its core, sound is a relatively simple natural phenomenon caused by pressure pulsations or vibrations propagating through various mediums in the world around us. Studies have shown that the complete absence of sound can drive a person insane, causing them to experience hallucinations. Likewise, loud and overwhelming sound can have the same effect. This especially holds true in manufacturing and plant environments where loud noises are the norm.

2
The tech industry is no stranger to crowdsourcing funding for new projects, and the team at element14 are no strangers to crowdsourcing ideas for new projects through its design competitions. But what about crowdsourcing new components?

5
It has been common wisdom of late that anything you needed to manufacture could be made more cost-effectively on foreign shores. Following World War II, the label "Made in Japan" was as ubiquitous as is the "Made in China" version today and often had very similar -- not always positive -- connotations. Along the way, Korea, Indonesia, Malaysia, and other Pacific-rim nations have each had their turn at being the preferred low-cost alternative to manufacturing here in the US.

Focus on Fundamentals consists of 45-minute on-line classes that cover a host of technologies. You learn without leaving the comfort of your desk. All classes are taught by subject-matter experts and all are archived. So if you can't attend live, attend at your convenience.
Last Archived Class