Despite a constant, thrilling array of advancements in personal computing technology, the majority of laptops are still limited by the relatively simple capabilities of conventional clickpads and touchpads. Current clickpads fail to take full advantage of the sense of touch and the possibilities that it offers for enhancing the user experience. Tactile pressure sensing technology has the potential to bridge that gap, however, by significantly changing how people work, play, and interact on a daily basis, and making user input more natural and easier to use.
The multi-touch clickpads featured on most available laptops are really more like large mechanical buttons, with a hinge below one end of the touchpad's visible surface that lets users press down and click. These touchpads aren't sensitive to differing amounts of force or pressure; users can either click or not click. Moreover, only part of the pad is usually clickable, as clicking near the hinge tends to require more force than clicking near the bottom, if it's possible at all.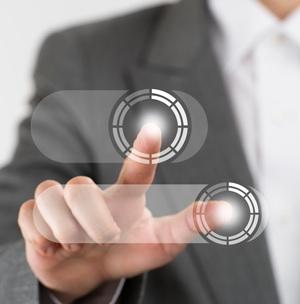 Tactile-sensing technology can solve these problems by harnessing the power of pressure sensitivity. Instead of registering one level of click, a pad that incorporates tactile pressure sensing would be able to detect varying levels of pressure from multiple fingers at once, expanding the potential for new functions, capabilities, and options. The pad would also be clickable across its entire surface, as the action would be computer-controlled rather than mechanical.
Consider, for example, the pressure-sensitive pad developed by Synaptics that's in HP's EliteBook Folio 1040. The pad lets users scroll simply by pressing down on the clickpad. They can scroll faster by pressing harder and slower by pressing lighter. The technology also makes it easier to drag and drop items on the desktop. Users simply "grab" something by pressing harder when the cursor is on the item, then "carry" it somewhere else and drop it where they choose.
By leveraging such technology, the process becomes more intuitive for the user. Although the action is still taking place on a two-dimensional screen, it more closely resembles the physical act of picking up and manipulating something on a real desktop. This example illustrates the potential of tactile sensing technology to transform how we relate to our PCs -- beyond even what Synaptics' early entry into the market makes possible -- by bringing a third dimension to a process that's currently otherwise limited to 2D input.
A user could, for example, press down harder or lighter to "fly through" a 3D display of data, such as a list of personal contacts, rather than simply scrolling up and down or left to right. A video gamer, on the other hand, could fire a weapon faster by pressing harder or accelerate or decelerate in a driving game by varying the touch pressure they use on the pad. One can envision how using pressure for selecting eliminates the need for double tap.
The technology also has potential in the realm of design, making it easier for a user to rotate an object in 3D computer-assisted design (CAD), for example. It could also be possible to virtually "sculpt" something, using the multi-touch function to strategically press harder and softer on a digital, 3D representation of, say, clay.
The concept of 3D has been around for some time, but we've struggled to break the 2D barrier with regard to input. Further incorporation and adaptation of tactile pressure sensing technology will continue to push the envelope with clickpads -- although those that are enabled by such technology would more accurately be called TactilePads -- and make technology such as 3D more accessible to everyone. In short, a fundamental shift in the personal-computing paradigm is coming, where 3D Tactilepads would replace traditional 2D clickpads, and tactile pressure sensing technology will be a driving force.
Related posts: