Over the years, the global steel industry has invested in engineering studies to give carmakers useful data on how to use new steel products in vehicles. Among the first was the 1998 "UltraLight Steel Auto Body" (ULSAB) study, which looked at new ways to take weight out of automotive body structures with high-strength steel. A 2001 follow-up study prepared by Porsche Engineering Services, ULSAB-AVC (advanced vehicle concepts), examined complete vehicle concepts in lightweight steel design.
The ULSAB-AVC engineering report spelled out new ideas about making structurally efficient steel cars. Although no car company actually built an ULSAB-AVC model, many of the findings from the work were quickly adopted by car companies around the world. These included the importance of holistic design -- considering the whole vehicle, not just individual parts -- and the value of new higher-strength steel grades with properties ideally suited for many vehicle load cases, like frontal crash energy absorption or side-intrusion prevention.
In a sense, then, the ULSAB-AVC concepts grew into many vehicles for at least 10 years following the report. The rapid increase in the use of advanced high-strength steels (AHSS) from 2001 to the present can, in part, be traced to the principles contained in the ULSAB-AVC engineering report.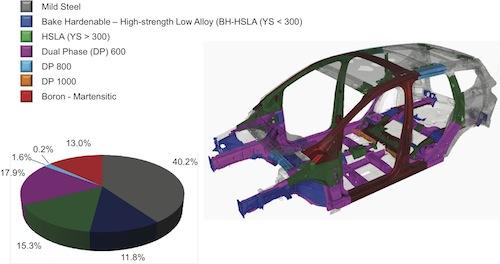 More recently, in 2011, the global steel industry did it again by publishing a new steel vehicle engineering study called FutureSteelVehicle (FSV), a project organized by WorldAutoSteel with 17 participating steel companies from around the world. The primary objective of the FSV engineering work was to explore and design lightweight steel electric-powered vehicles. It was understood that electric vehicles represented a somewhat new set of criteria with new package constraints, like the location and management of significant rechargeable battery mass. Ten years after the ULSAB studies, the steel industry had more steels to offer and designers had better design tools to optimize the structure.
Again, as in 2001, so far no car companies have announced they will build a FSV car by using the published engineering designs. In spite of that, it's worthwhile to explore whether the lightweighting steel concepts from the FSV work are showing up in vehicles today. In this article, we will look for examples of the FSV principles in new vehicles of all types.
The FSV steel structure was designed in CAD, with fully developed FEA (finite element analysis) models and tested through CAE, with the assistance of EDAG Engineering Inc. While the FSV solutions apply directly to electric-powered passenger vehicles, it was projected that many of the steel-intensive structural solutions would apply across a wide variety of light-duty vehicles, including those powered by internal combustion engines. Further, it was expected that many FSV steel lightweighting concepts would find applications in crossovers, SUVs, and pickups.
During the FSV project, the EDAG engineers, working with steel experts, designed four related vehicles to handle different battery sizes and motor configurations. These were a BEV (battery-electric vehicle), two PHEVs (plug-in hybrid electric vehicles) with 20-mile and 40-mile electric ranges, and a HFC (hydrogen fuel cell) model. Among the technologies discussed in the FSV engineering report are the following, which, if they show up in new vehicles, will strongly suggest that FSV principles are being adopted:
Growth of various forms of high-strength steel, and especially AHSS, which are replacing mild steel.
Use of steels more than 1,000 MPa, or 1 GPa (gigapascal steels).
Use of high-tech design optimization methods, including topology, topography, load path optimization and subsystem gauge, grade, and geometry optimization.
Structural steel features from new process methods, like tailor rolling of blanks, tailor welding of coils, and continuous joining.
Improvements in noise, vibration, and harshness (NVH), and in stiffness through stamped features in flat panels.
Achieving significant lightweighting at low cost.
Great Designs in Steel (GDIS), an annual seminar held in the Detroit area and sponsored by the Steel Market Development Institute, publishes reports on many design features of new vehicles. New steel design details are presented by car companies from around the world at this seminar. We will look at a few examples from the 2013 GDIS program that display some of the FSV technologies.