When it comes to capacitive tactile pressure sensing, the question often arises: How low can you go? Although a measurement of less than 1 psi is considered to be a super-low pressure in contact mechanics, pressure sensors are sensitive enough to measure the even-more-precise pascal (Pa).
But there's not quite a magic number in terms of measuring very low pressures. After all, practical applications involving extremely low pressures, particularly pressurized spray applications, tend to carry their own unique challenges.
Consider a semiconductor manufacturer whose production processes involve the use of a nozzle-type industrial spray to apply various materials and gases. To ensure uniform application, the manufacturer may be interested in measuring the pressure with which the material or gas impacts the surface of whatever is being sprayed.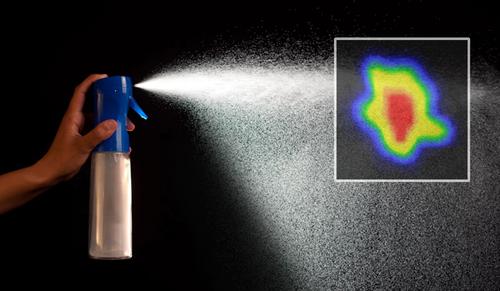 This concept seems simple enough. And yet, this is often a trickier prospect than it might seem.
The first issue is that the pressure involved is often low -- so low, in fact, that it reaches the threshold at which it is equivalent to molecules bouncing around in the atmosphere, and is thus all but impossible to measure. That complicating factor illustrates one underappreciated aspect of pressurized spray applications, from industrial processing to cleaning and coating circuit boards: Whatever the pressure on the back end of the nozzle might be, the drop in pressure as the material exits the nozzle is tremendous, and the contact impact pressure tends to be dramatically lower.
As a real-world example, think of the way mist is dispensed by misting devices at amusement parks and outdoor restaurants to keep patrons cool; it is expelled from the nozzles with some amount of pressure, but then carried and buffeted about by the surrounding air.
This complex issue can be compounded by another reality of dealing with spray applications, at least when it comes to liquids and other non-gaseous materials. The droplets or particles of the material being applied reach the surface not all at once, but at different locations and times.
Imagine a person using a hose to clean a car; the individual water droplets hit some parts of the car while leaving the spaces between them dry. Any attempt to measure the pressure distribution would have to measure much more than one, simple value; it would have to account for several dynamic values and factors, such as spatial variance and temporal changes. That's tough to do, especially when the pressures are very low to begin with.
This example helps illustrate a general truth about working with capacitive tactile pressure sensors. They deal with open environments and pressures that vary spatially -- these aren't like pressures in closed environments, such as, say, a pressure vessel, in which there is one uniform value that holds constant throughout the vessel. Also, sensors meant for dynamic applications often cannot be as sensitive as those designed for static applications, like, for example, measuring weight.
All that said, PPS has successfully measured very low levels of pressure in an application involving a custom nozzle-type device. Again, though, in some situations, there sometimes simply isn't enough pressure to measure, even when using a highly sensitive membrane-type sensor. In certain cases, utilizing capacitive-based sensor array technology to capture the spray pattern and quantify the amount of material deposited would be a more appropriate alternative. In particular, this approach would be suitable for those cases where ensuring uniform distribution or coating -- and not uniform pressures -- is the real goal anyway.
Related posts: