National Electrical Manufacturers Association (NEMA) enclosures house various types of electrical and electronic components, and are typically made from carbon steel, stainless steel, or plastic. They range in size from small pushbutton boxes to room-size panels and receive a NEMA rating according to the protection offered (Figure 1). While the NEMA website offers guidelines and definitions for each enclosure type, detailed design is needed to ensure the correct rating and cooling system.
An indoor installation that doesn't need protection from dust, oil, and dripping water can probably use an economical NEMA 1. Enclosures subject to airborne contaminates such as dust oil or requiring protection from non-corrosive dripping liquids require a NEMA 12 rating.
Harsh environments subjected to pressurized washdown need NEMA 4 protection. If corrosives are present, the enclosure should be rated NEMA 4X.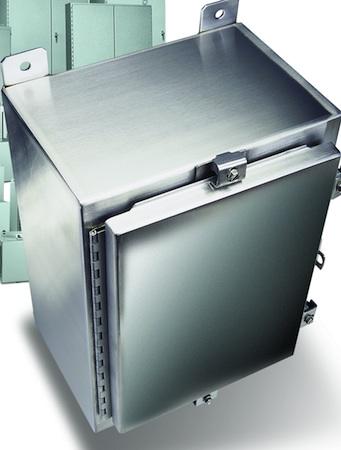 These four ratings are the most common, with other ratings required for more esoteric applications.
Right sizing
The first step is to determine the space needed for mounting the control components on a standard sub-panel size. Next, the panel depth is determined. The sub-panel and its components only make up a portion of the depth as pushbuttons, operator interfaces, indicators, meters, etc. that will be mounted on the enclosure door will occupy some of the enclosure depth. Finally, heat dissipation space requirements must be considered.
Keeping cool
Heat inside an enclosure can decrease the life expectancy of internally-mounted electronic and electrical components, and can also cause nuisance faults. Excessive heat can change the expected performance of thermal circuit breakers and fuses, causing entire systems to shut down.
There are basically two sources that can cause the enclosure's internal temperature to rise above the ratings of the control equipment: internal and external. Internal sources of heat include all electronic and electrical equipment. External sources of heat include any factor that raises the ambient temperature in the vicinity of the enclosure to a level exceeding the desired internal temperature rating.
There are three basic cooling methods to overcome internal and external heat: natural convection, forced convection, and closed loop cooling.
Natural convection cooling uses the enclosure itself and the surrounding environment to dissipate heat. If the temperature outside the enclosure is cooler than the inside, heat can be dissipated into the atmosphere by radiating it through the surface of the enclosure. For non-sealed enclosures such as NEMA 1 and 12, heat can be dissipated through louvers or grilles, with fans and filters applied when necessary.
Forced convection cooling relies on clean, cool air provided to the enclosure, generally ambient air. In these instances, a simple forced-air system may be adequate, such as a fan with an associated grille and an appropriate filter.
Getting the right size fan for forced convection cooling systems is critical. Using cubic feet per minute (CFM) for a forced air cooling solution, the formula below determines how much heat will be removed and the Delta T.
CFM = Cubic Feet per Minute
Pwatts = Power to be dissipated in watts
Delta T = maximum allowable internal enclosure temperature °F – maximum outside ambient temperature °F
CFM = (3.17 x Pwatts) / Delta T °F