New highly engineered materials with low surface energy (LSE) are emerging to help designers cut costs and meet increasingly demanding performance requirements. Materials can include powder-coated and electrostatic-bonded paints, paints containing wax, plastics that incorporate low cost polyethylene or polypropylene, and plastics filled with talc.
These materials find use in a host of industries ranging from automotive, appliances, and electronics to packaging for food containers and transportation. They can resist temperature extremes, deliver extended durability, and help designers reduce a product's weight or size. While these materials provide design options and flexibility, they can present designers with demanding bonding challenges.
These challenges are being met with new generations of high-performance adhesive technologies used in pressure-sensitive tapes. The tapes come in various constructions, including transfer and double coated, enabling designers to bond nearly any LSE material.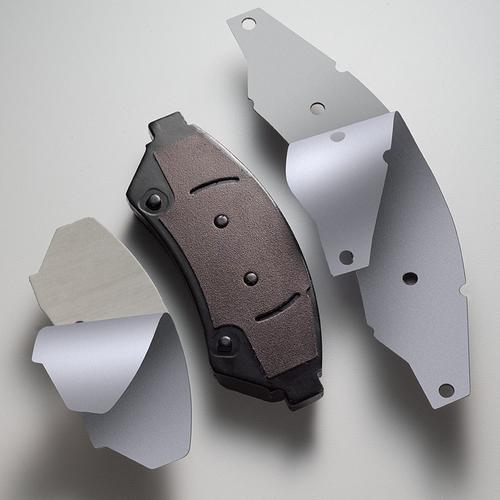 Low surface energy
All things bond according to how much affinity they have to a surface. When surface energy is low, a material may have more affinity to itself than it does to the LSE surface with which it comes into contact. A common example has to do with water and an automobile's painted surface. An unwaxed painted car will have a relatively high surface energy. Water coming into contact with it will wet out and cling to that surface because it likes that energy more than itself. With a waxed car, surface energy is low. Here, water will bead because it likes itself more than the surface that it's contacting.
The same principle holds for adhesives. Adhesives have a greater affinity to high energy surfaces than low energy surfaces. These low energy surfaces, found in a host of applications, require higher performing adhesive products.
High-performance pressure-sensitive adhesives
In the automotive industry, adhesives must adhere to LSE materials used in door panels and bolsters, as well as deck lids in the back of SUVs. Under hood applications call for adhesives that perform reliably under high and low temperature conditions. In electronics applications, such as cellphone screens, adhesives need to meet increasing requirements for thinness, yet be sufficiently strong that they adhere to increasingly smaller contact areas. Appliances, such as washing machines, dryers, and dishwashers, may present LSE challenges due to paint overspray onto foams or seals or gaskets in an appliance's interior.
Low surface energy packaging materials used for applications throughout the supply chain include shrink-wrap used to contain pallets, overnight shipment boxes, and retail packaging housing toys and countless consumer products.