To solve a problem, one must first recognize that a problem exists. Universities and industry are in denial. Based on my 30 years of teaching and industry experience, I say that not much has changed in this contentious relationship. The world now changes on a time scale measured in days. As a result, this situation is now at a crisis point.
You would never know that listening to academic and industry leaders. What I hear is a mix of doing the same old, same old and making incremental changes, so we don't upset the silos and comfort zones that dominate these two worlds. Radical innovation is needed, along with visionary, selfless leaders who can take risks without fear of failure.
Do the technological universities and industry have a common goal? I believe fundamentally they do -- solve society's most urgent problems to give people throughout the world the quality of life they yearn for and to nurture a planet that can sustain and enhance this quality of life indefinitely. Universities need to do this through an integrated, multidisciplinary curriculum that recognizes this need. The delivery system must nurture students in mastering the fundamental knowledge, the problem-solving process, and the technological tools they need to become catalysts for change -- critically thinking problem solvers.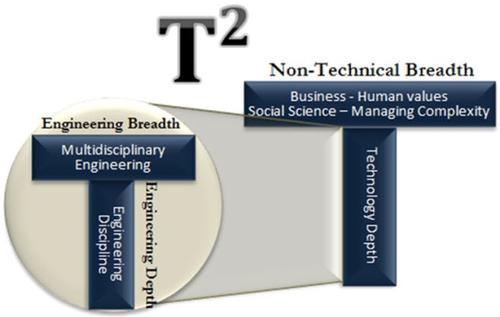 The industry urgently needs to attain and retain a competitive advantage by organizing multidisciplinary teams to apply human-centered, model-based design techniques to these problems. Universities need to develop, and the industry needs to hire, T2 engineers as envisioned by, for example, Stanford University and two of the world's leading design firms, IDEO and MAYA. The diagram is a composite of their views.
Engineers need to have depth in an engineering discipline and the multidisciplinary breadth to communicate with and lead engineers from other disciplines. The problems are multidisciplinary, and a siloed approach to solving them will fail. But technological depth is not enough. Once engineers apply human-centered design to identify the real problem and model-based design to identify a technologically feasible solution, they must determine if the proposed solution is viable and sustainable from a business point of view and usable from a complexity point of view. Technological depth and nontechnical breadth are essential for innovation to happen, as engineers need to grow professionally daily.
So what is the problem? This seems like a win-win situation for all involved: students, universities, practicing engineers, industry, society, and the planet. My view is that many academics think the industry wants engineers who just use computer tools (training, not education), leave the mathematics and science back at the university, and do whatever it takes to make money. They also think that real problem solving takes place with substantial, long-term, high-overhead government funding that feeds the university reward system.
Industry members are now realizing that the design-build-test-break-fix approach leads to limited success and insight, and that the challenging problems they face can be solved only by embracing model-based design, which relies on mathematics, science, and engineers who are tool masters, not just tool users. Some industry problems demand short-term solutions with limited funding, but very often those solutions uncover long-term, fundamental issues that must also be addressed, usually with university collaboration. And this research is problem-driven. Universities need to demonstrate value to both their students and to industry as the indispensable bridge between them that guarantees a bright future for all in the world. Pointing fingers and building barriers, like the all-too-common inflexible intellectual property rules and excessive overhead rates, exacerbate the problem.
Challenges are met and problems are solved by changing culture -- attitude and behavior -- and instilling ownership. Consensus -- something in which no one believes and to which no one objects -- is not a substitute for shared ownership. Will the real university and industry leaders please step forward? The world cannot wait much longer.
Related posts: