The open-source movement continues to gain traction in 2013 among core groups, according to a survey released by electronics distributor Newark element14. The results conclude that more professional engineers, hobbyists, and students will all use open-source software and hardware for one or more design projects this year.
Of those surveyed, more than half (56 percent) of professional engineers will use BeagleBone and Arduino in 2013. For hobbyists, that number jumps to 82 percent, and for students, 85 percent. Additionally, more than half (52 percent) of professional engineers are more likely to use open-source software in 2013, as well as 81 percent of hobbyists and 77 percent of students, as compared to years past.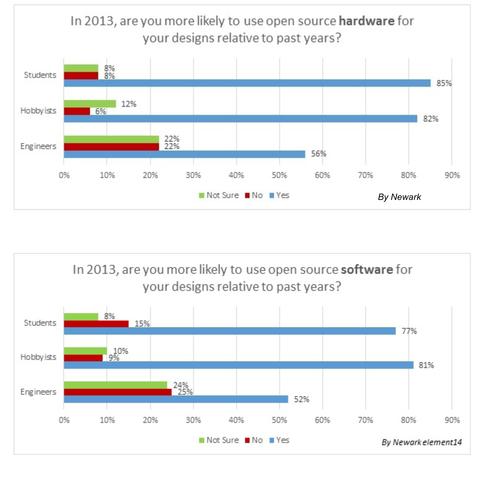 What do these findings mean for the engineering and design communities? Perhaps most importantly, these numbers demonstrate how engineers' opinions about open-source are changing. Traditionally, open-source designing in the commercial space were seen as a risk. With the sheer availability of open-source tools and resources in recent years, those fears are being mitigated by increased adoption.
Relatedly, platforms like BeagleBone and Arduino were once predominately exclusive to hobbyists, but now professional engineers and even students are using them. The gap is closing across these groups, demonstrating how technology is expanding design platform choices. The amount of design considerations engineers need to address is also expanding. These trends speak to the importance of ease of access and use for all engineers.
Lastly, this adoption of open-source is an indicator of what the future design tool market will look like for engineers' project needs. As open-source is becoming more and more mainstream, it's driving development tool suppliers to respond accordingly.
The open-source movement, as demonstrated by this survey, sheds light on how dynamically the engineering world will continue to change. The opportunities will unfold for engineers to bring new designs and exciting innovations to market faster and more effectively.
— Wilson Lee is the director of product marketing at Newark element14, a division of Premier Farnell.
Related posts: