In the last RedViking guest blog post, Chris Lake talked about a Department of Defense (DoD) project where more than 20 helicopter powertrain test stands were replaced with five flexible test stands. The stands were 20 to 50 years old and built with single-purpose functionality, resulting in excessive energy consumption and costs.
Thus a critical design element in this project was its electrical re-generation capability for energy savings. With improvements over the conventional non-regen testing process, the estimated cost savings for one RedViking transmission test system at an Army repair center is about $500,000 per year.
Illustrated below, current helicopter transmission and gearbox test systems use traditional braking technology that results in wasted energy by converting power to lost heat.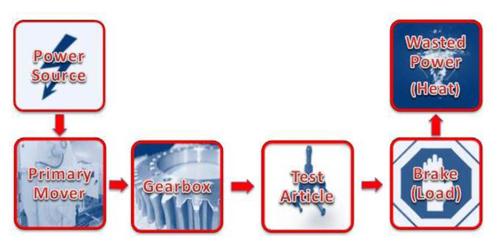 Conventional load testing requires loading to occur via an eddy current or fluid brake system. These require additional energy, maintenance, and up-front capital investment. For this DoD project, we selected Siemens Sinamics drives with low-voltage common DC bus architecture. Regenerative braking technology allows the test machines to recover the power that would otherwise be lost with non-regenerative braking systems.
The common DC bus architecture allows for only one AC-to-DC conversion in the motoring direction. Electrical re-gen is used when the UUT geometries are too complex for a mechanical foursquare. The regenerative braking power goes straight to another inverter, which is motoring via the common DC bus link. This method eliminates two conversion points where energy would be lost, and increases overall efficiency. In addition, the common-bus solution paired with the active front end (AFE) has an ability for power-factor correction, further increasing the overall savings of a common-bus system. All AFE drives allow for a unity power factor and low total harmonic distortion, meeting IEEE 519 harmonic standards and thereby allowing the drive systems to improve the present power factor displacement in a customer's facility.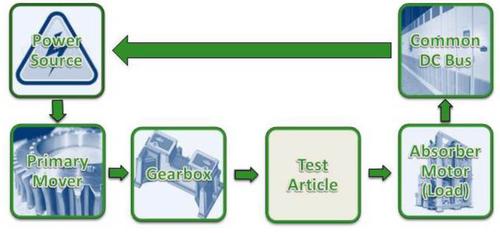 The energy savings are about six times the energy efficiency previously required to run the helicopter test stands. We estimate that a test on the Main Transmission Flexible Test System while running at full capacity will cost about $400 less per hour to operate than current systems.
Jason Stefanski is the controls and software manager for RedViking Engineering.
Related posts: