As manufacturing becomes more sophisticated, more computerization is being utilized.
The problem with this scenario is that sensitive electronics are susceptible to the harsh environments in which they must operate. Heat is their enemy as it reduces their life expectancy. Typically, electronics are designed to operate in 104F environments. For every 10 degrees beyond that, time to failure is reduced by 50 percent. On hot summer days, a panel that's loaded with electronics may have internal temperatures that rise well beyond their design limits.
To better understand the dynamics of the thermal process, let's assume the panel isn't operating, so there's no heat being generated inside. The panel's internal temperature then will be the same as the temperature outside the panel. When the panel is turned on, internal components begin to generate heat. Energy -- in this case heat energy -- moves from a high-energy source toward a lower-energy source. The rate at which it will travel depends on the thermal conductivity of the material and surface area. When the rate of heat being generated exceeds the rate of thermal transfer, the temperature will rise inside the panel.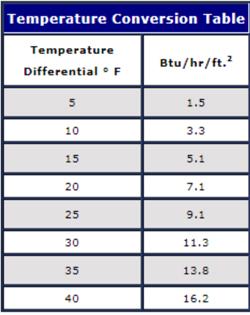 This phenomenon is best described by the law of heat conduction, also known as Fourier's law, which states that the rate of heat flow through a homogeneous solid is directly proportional to the area of the section at right angles to the direction of heat flow, and to the temperature difference along the path of heat flow. It can be expressed by the formula:
q = k * A* dT / s, where q = heat, expressed in BTU A = heat transfer area k = thermal conductivity of the material dT = temperature difference across the material s = material thickness
Use this formula to calculate the heat loads on a panel. Or you can use a shortcut, whereby you take a temperature inside the panel and a temperature just outside the panel. Then you use the chart shown above for the btu/hr per foot square associated with your measured temperature difference. Multiply the factor from the table by the square feet of the panel's surface. The surface area of the panel bottom need not be included.
This will be the internal heat load. When ambient temperatures rise above the desired panel temperature, and then heat is driven into the panel, adding to the heat load generated inside. You do the calculations for external heat load the same as you do for the internal load except for the dT, use the maximum ambient temperatures possible minus the target internal panel temperature.
Example:
Panel size is 2 ft x 4 ft x 1 ft = 26 ft surface area. (Note that only five sides are considered because the panel's top is hotter than the bottom. Hence, for these calculations, the bottom side can be ignored.)
Temperature inside the panel = 120F
Temperature outside the panel = 80F
Maximum ambient temperature = 110F
Target panel temperature = 95F
Delta T inside/outside (120 - 80) = 40F
Delta T target panel temperature to maximum ambient temperature (110 - 95) = 15F
Using the table, the factor for delta Ts: 40 degrees = 16.2; 15 degrees = 5.1
Internal heat load then is 26 ft x 16.2 btu/hr/ft = 421.2 btu/hr
External heat load then is 26 ft x 5.1 btu/hr/ft2 = 132.6 btu/hr
Total heat load is the sum of the internal and external heat loads, 421.2 + 132.6 = 553.8 btu/hr