For years, plastics prototyping went something like this: The designer created a beautiful, well-designed part, and then threw it over the wall to the plastics expert who had to figure out how to manufacture it.
The plastics expert would look at the part, see that several changes needed to be made -- maybe there were too many variations in the thickness and thinness of the part, for example -- and toss it back to the designer. On and on it would go until an easily manufacturable part was developed.
Different groups, different needs
It should be emphasized here that nobody is to blame for the headaches around designing for manufacturability.
The designer's job is to design a functional and attractive part or product. The manufacturing responsibility typically lies elsewhere, and yet the designers' decisions in the product design process have a tremendous influence on the manufacturability of the product. These decisions are often made without fully understanding the downstream ramifications.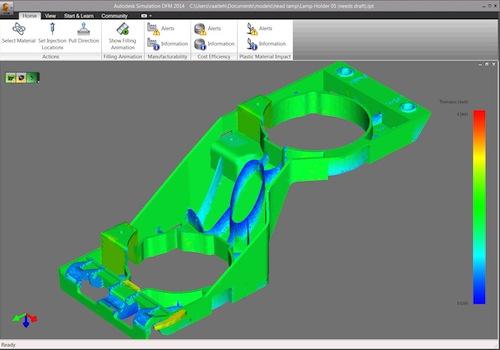 Many manufacturing considerations for plastic parts are not necessarily intuitive and generally are not part of the knowledge base of the people who are designing the plastic parts, which is why it usually falls to someone who understands plastics and the injection molding process.
But what if we could fix more of these problems during the design phase?
Real-time manufacturability feedback
The traditional approach to solving this problem has been to simplify an analyst-level simulation tool and jam it into a CAD system in the hopes of creating a designer-friendly product that designers would flock to, which is an approach that has never been successful. As a result, to this day simulation is still largely the domain of individuals with extensive, specialized knowledge and training.
New tools (such as Autodesk Simulation Design for Manufacturing (DFM) software), however, take a completely different tack, simplifying plastic part design by providing real-time manufacturability feedback.
Much like the spellcheck feature in Microsoft Word, these tools can flag potential issues with manufacturability, cost, and environmental impact with every design change, using easy-to-interpret green, yellow, and red indicators.