The Internet of Things (IoT), a megatrend driven by embedded intelligence, is about creating a world filled with smart, interactive objects, each capable of providing actionable information about itself, its users, or its environment. Gartner and McKinsey have identified IoT as one of the Top 10 strategic technologies for the next decade.
Although the IoT is more than a trillion dollar market today, the cost of electronics that enable it has limited its market reach. Large market segments remain unaddressed because traditional electronics are simply too expensive.
Ericsson, the Swedish technology giant, estimates there will be 50 billion connected devices by 2020, and projects the market value of Printed Electronics to reach 2 trillion (USD) by 2015. Inexpensive, disposable Smart Labels based on Printed Electronics could be placed on billions of items each year, eventually removing the cost barrier for the IoT.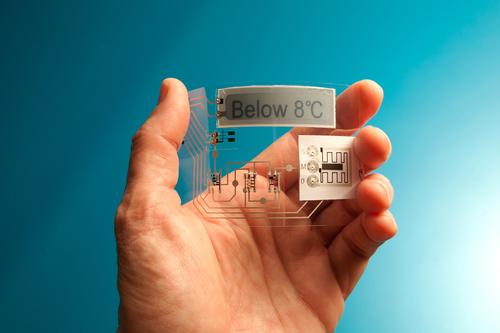 Printed Electronics that are comprised of logic and memory at the core can capture data and retain it on non-volatile storage. It can capture the temperature of a perishable food item or pharmaceutical product and store it to later be read by a handheld reader. A Smart Label can alert a grocery store manager about lettuce approaching a safety temperature threshold in time to take corrective action.
Low-cost Printed Electronics can make this possible with negligible impact on the cost of the product. The world is at the beginning of the digitization of everything. Cars, appliances, and devices of all sorts will have embedded digital intelligence and communication. Printed, electronic Smart Labels will become so cost-effective they can be used to add intelligence to everyday, even disposable, items.
What is printed electronics?
A set of printed methods used to create electrical devices on various substrates, Printed Electronics uses common printing equipment, such as screen-printing, flexography, gravure, offset lithography, or ink jet printing. The inks are deposited on a substrate, creating active or passive devices, such as Thinfilm transistors or resistors, producing massive volumes of processors quickly and at extremely low cost.
Printed Electronics makes it possible to develop, enable, and share system intelligence, and do so at a cost that makes it practical. This allows product designers to create new products by adding digital intelligence that was not possible before -- adding just what is needed for an application and no more. It also allows for the development of new business models; new ways to take products to market. This is possible because Printed Electronics reduces the cost of digital intelligence and business risk.
For example, Thin Film Electronics, a pioneer in the field of Printed Electronics, produces the only commercially available printed rewritable memory, which can be printed at high volumes on roll-to-roll printing presses. Thinfilm added logic functionality to its memory in collaboration with PARC, a Xerox company, and added partners for a printed sensor, battery, wireless communication, and a display to its ecosystem. The company developed a fully printed electronic temperature-sensing label to compete in the $3.5B temperature-sensing market at a price point comparable to color-changing chemical labels.