I recently worked with a company that offers a customized monitoring system that they install on existing cranes that have no monitoring equipment. This system lets the crane owner control and monitor all technical, maintenance, inventory, and financial information related to the crane, as well as the various specific tasks the crane is assigned to in a particular project.
The system includes wireless data-acquisition that can be equipped with six to 12 input channels that monitor the following sensors:
a load pin with a full-bridge strain gage to measure the weight on the crane;
a length sensor to determine how far the crane boom has been extended or retracted;
a "slew sensor" that measures the boom crane's swing in degrees;
an engine-monitoring package that may contain temperature sensors, force sensors, and other sensors, depending on crane usage.
The sensors connect wirelessly to the data-acquisition system. Additional hardware includes a communication module that interfaces the monitoring system to a programmable logic controller (PLC). The software package is also a custom design tailored to a customer's process and requirements.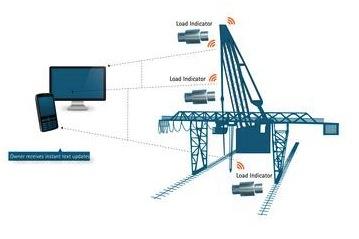 The software performs several functions. Perhaps the most popular is that it calculates a parameter called "ton hour value," which is a measure of how much value you're getting from a crane based on weight. It includes all of the costs it takes to maintain the crane, including maintenance, labor, and travel.
As previously mentioned, the system also performs maintenance scheduling. It tracks both run hours and weight hours. By tracking these numbers exactly, crane operators can go to longer maintenance and replacement cycles. This is because many expensive parts are exposed to a small percentage of their full capacity in normal operation. For example, if a load pin is rated for 50,000 pounds, but technical data states that the load pin has never lifted more than 30 percent of its capacity, its replacement time is much longer than if it's consistently lifting weights near its capacity.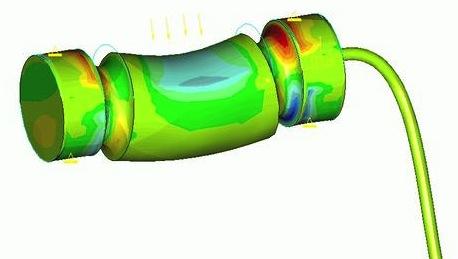 When a crane doesn't have a monitoring system, crane owners schedule service every six months and simply scrap the parts they replace, even if a part has had little use and doesn't need replacing. These parts can cost up to several thousand dollars. You can see why avoiding these unnecessary costs would be attractive to crane operators.
Another function is predictive failure analysis and preventative equipment damage control. By monitoring critical operating parameters, such as engine operation, hoist position, and lifting weight, the system can predict failures. Should any of these parameters approach critical values, the system can be shut down to prevent damage. While the crane is offline, the monitoring system can contact a control center and notify the center as to why the shutdown was required.
— Richard Hanbury is an applications engineering manager with HBM Inc.
Related posts: