The Internet of Things (IoT) is frequently defined by consumer or healthcare applications. It's important to remember, however, that IoT offers at least as much potential to industry. One of the most promising subsets of industrial IoT is embedded vision -- or machinery that can see, interpret data, and act accordingly.
Traditionally, the most important class of applications in machine vision is in-line inspection and quality control. According to Jeff Bier, founder of the industry partnership Embedded Vision Alliance, machine vision is currently a mature market growing at a modest pace of 10% to 15% per year.
"Historically, machine vision has been an expensive, complex technology," Bier told Design News. "This has limited how frequently it has been deployed. It's now rapidly becoming very inexpensive and small, with low power demands. As a result, it can be deployed in many new places where it wasn't before. In the industrial space, we now have products that sell for $100 that incorporate machine vision and connect to a smartphone."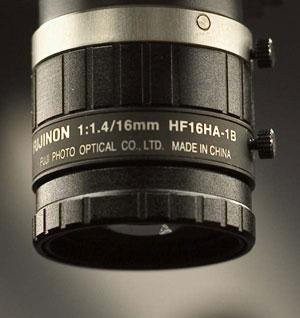 Computer vision, aided by low-cost and energy-efficient processors, is leading a new wave of machine vision. The Embedded Vision Alliance refers to embedded vision as the use and application of computer vision in industrial machinery.
The technology is at a point where it can be directly integrated into machines, paving the way for new uses and smart machinery. As a result, new developments are happening at the design level, and forward-looking companies are integrating vision into industrial machinery through partnerships and acquisitions. The new designs are changing industry, particularly in robotics, according to Bier.
MORE FROM DESIGN NEWS: Create 'Machines That See' Using Industry Resources
"In fabrication robots, for example, instead of having a camera mounted on a truss or a ceiling to monitor what that robot is doing, designers are experimenting with installing a very small camera on the robot arm to get a better picture of what's happening right at the moment the robotic tool is meeting the work," he said.
The result is robotic equipment that is better able to compensate using vision the way a human operator would. If a tool has become worn or bent, a human worker would alter the way he uses the tool. With better vision at the work site, robots can also better compensate for work conditions, which boosts reliability and uptime. Embedded vision technology is also enabling broader use of augmented reality, according to Bier. This will have significant implications for assembly line processes.
"Some companies are integrating vision into hand tools, such as routers," he told us. "If you're using a router to build cabinets, for example, you need to know what you're doing to get everything lined up properly. With embedded vision in the router, you can determine in advance where you want to make the cut. Then, you can simply push the tool in the general direction of where you want to go, and the tool actually determines where the cut should be made automatically, so you don't have to be a highly skilled carpenter to get high-precision results."
As it matures, embedded vision is likely to have broad implications on industrial machine design. Few industrial machines today are designed so that moving parts can be easily seen on the inside, and machine vision systems need to have a clear view of what they're looking at. Frequently, there simply isn't enough light in existing machinery to enable efficient operation of cameras.
In other cases, there is the potential for lenses to become obscured -- think of a machine that works with ceramic or another material that creates a lot of dust. In these cases, design solutions will be necessary to overcome limitations, e.g., installing fans to clear away dust, vapor, or anything else that might obscure vision.
Bier noted that there is currently a lot of activity among companies trying to find the right partners for machine vision. Developments on the consumer side are actually leading to innovations for industry, and even small manufacturers will be able to afford it.
"Now, instead of thousands of dollars and hundreds of watts, it's hundreds of dollars and tens of watts, so it's much more achievable," he said of machine vision technology developments.
Tracey Schelmetic graduated from Fairfield University in Fairfield, Conn. and began her long career as a technology and science writer and editor at Appleton & Lange, the now-defunct medical publishing arm of Simon & Schuster. Later, as the editorial director of telecom trade journal Customer Interaction Solutions (today Customer magazine) she became a well-recognized voice in the contact center industry. Today, she is a freelance writer specializing in manufacturing and technology, telecommunications, and enterprise software.
Design engineers, New England's premier design and manufacturing event, Design & Manufacturing New England, will take place in Boston, May 6-7, 2015. A Design News event, Design & Manufacturing New England is your chance to meet qualified suppliers, get hands-on with the latest technologies, be informed, and expand your network. Learn more here.