Neither snow, nor rain, nor heat will keep a wire rope isolator from performing its appointed job, which is withstanding shock. In spite of that, engineers often pick elastomer products, like rubber mounts, to deflect shock. That's because elastomers are cheap, as low as $3 apiece, and people don't always consider the benefits of wire rope isolators.
The wire rope isolator, which has been around for at least 30 years, is made of stainless-steel strands of cable threaded through aluminum alloy retaining bars and crimped. When the strands flex from vibration input or shock impulse, they convert kinetic energy into thermal energy, which then dissipates to atmosphere. This protects whatever product the wire rope isolator is cushioning as it acts to decouple the equipment from the vibration or shock source. For example, GPS gear mounted to an agricultural tractor or communications equipment aboard a warship are applications for wire rope isolators.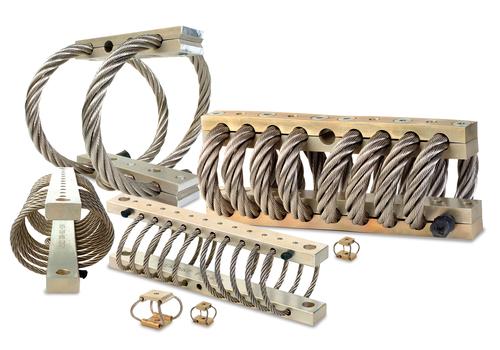 The increased deflection capability of the wire rope isolator enables the product to withstand shock and protect whatever equipment it's mounted to, deflecting up to an inch or more under a high force shock impulse. Under similar conditions, an elastomeric compound gets very stiff and may deflect only 0.060 inch to 0.100 inch. The larger wire rope isolators can deflect up to 6 inches under extreme input conditions, while supporting up to 5,000 lb (2200 kg) per isolator.
The wire rope isolator also withstands temperatures as high as 500F (260C), chemicals, and ozone without compromising performance. In contrast, heat and weather degrade elastomers. And washdown environments corrode them. But it's easier to mold hundreds or thousands of rubber mounts, and thus cheaper to buy these products than handmade wire rope isolators. Finally, wire rope isolators enhance protection. When sized properly, they can outlast the equipment that they support.
— Greg Herman
is the product manager for ITT Enidine, part of ITT Control Technologies.
Related posts:



More Blogs from Guest Blogs

1
Iterative design — the cycle of prototyping, testing, analyzing, and refining a product — existed long before additive manufacturing, but it has never been as efficient and approachable as it is today with 3D printing.

0
People usually think of a time constant as the time it takes a first order system to change 63% of the way to the steady state value in response to a step change in the input -- it's basically a measure of the responsiveness of the system. This is true, but in reality, time constants are often not constant. They can change just like system gains change as the environment or the geometry of the system changes.

4
At its core, sound is a relatively simple natural phenomenon caused by pressure pulsations or vibrations propagating through various mediums in the world around us. Studies have shown that the complete absence of sound can drive a person insane, causing them to experience hallucinations. Likewise, loud and overwhelming sound can have the same effect. This especially holds true in manufacturing and plant environments where loud noises are the norm.

2
The tech industry is no stranger to crowdsourcing funding for new projects, and the team at element14 are no strangers to crowdsourcing ideas for new projects through its design competitions. But what about crowdsourcing new components?

5
It has been common wisdom of late that anything you needed to manufacture could be made more cost-effectively on foreign shores. Following World War II, the label "Made in Japan" was as ubiquitous as is the "Made in China" version today and often had very similar -- not always positive -- connotations. Along the way, Korea, Indonesia, Malaysia, and other Pacific-rim nations have each had their turn at being the preferred low-cost alternative to manufacturing here in the US.

Focus on Fundamentals consists of 45-minute on-line classes that cover a host of technologies. You learn without leaving the comfort of your desk. All classes are taught by subject-matter experts and all are archived. So if you can't attend live, attend at your convenience.
Last Archived Class