Neither snow, nor rain, nor heat will keep a wire rope isolator from performing its appointed job, which is withstanding shock. In spite of that, engineers often pick elastomer products, like rubber mounts, to deflect shock. That's because elastomers are cheap, as low as $3 apiece, and people don't always consider the benefits of wire rope isolators.
The wire rope isolator, which has been around for at least 30 years, is made of stainless-steel strands of cable threaded through aluminum alloy retaining bars and crimped. When the strands flex from vibration input or shock impulse, they convert kinetic energy into thermal energy, which then dissipates to atmosphere. This protects whatever product the wire rope isolator is cushioning as it acts to decouple the equipment from the vibration or shock source. For example, GPS gear mounted to an agricultural tractor or communications equipment aboard a warship are applications for wire rope isolators.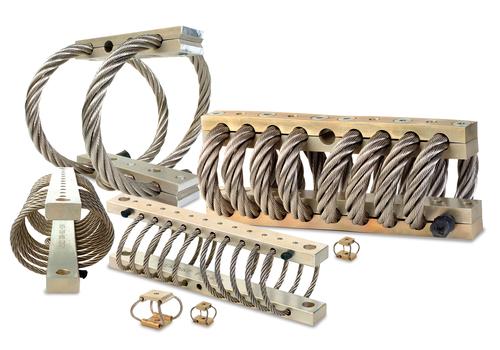 The increased deflection capability of the wire rope isolator enables the product to withstand shock and protect whatever equipment it's mounted to, deflecting up to an inch or more under a high force shock impulse. Under similar conditions, an elastomeric compound gets very stiff and may deflect only 0.060 inch to 0.100 inch. The larger wire rope isolators can deflect up to 6 inches under extreme input conditions, while supporting up to 5,000 lb (2200 kg) per isolator.
The wire rope isolator also withstands temperatures as high as 500F (260C), chemicals, and ozone without compromising performance. In contrast, heat and weather degrade elastomers. And washdown environments corrode them. But it's easier to mold hundreds or thousands of rubber mounts, and thus cheaper to buy these products than handmade wire rope isolators. Finally, wire rope isolators enhance protection. When sized properly, they can outlast the equipment that they support.
— Greg Herman
is the product manager for ITT Enidine, part of ITT Control Technologies.
Related posts:



More Blogs from Guest Blogs
To get to a trillion sensors in the IoT that we all look forward to, there are many challenges to commercialization that still remain, including interoperability, the lack of standards, and the issue of security, to name a few.
Today, no matter where in the world the device is located, it can call home and ask for the latest-and-greatest firmware with bug fixes and feature updates.

2
A decade from now, firmware development may be nothing more than software integration, grabbing vendor and third-party components, and meshing their APIs together to form a final system.

1
Design, simulation, manufacturability, and prototyping: All of these phases are being pushed forward and progressively by underlying technologies.
From design feasibility, to development, to production, having the right information to make good decisions can ultimately keep a product from failing validation. The key is highly focused information that doesn't come from conventional, statistics-based tests but from accelerated stress testing.

Focus on Fundamentals consists of 45-minute on-line classes that cover a host of technologies. You learn without leaving the comfort of your desk. All classes are taught by subject-matter experts and all are archived. So if you can't attend live, attend at your convenience.