The marketplace is littered with the remains of companies that have tried to make a success of vertical axis wind turbines (VAWTs). So much so that conventional wisdom has it that something must be wrong with the technology itself; otherwise, there would be successful companies in this space.
But let's review some history. During World War II, Western nations spent vast amounts of money improving the design of propellers for aircraft, while VAWTs got nothing. Much of the money for propeller development went to large companies. Some of these companies took the technology and made large windmills. So we have a situation where a well-funded technology was adapted by well-funded companies. It should not be a surprise that these have been successful.
In general, the wind industry has been successful primarily due to subsidies. Since large companies pay lobbying groups to support these subsidies, these companies have continued to do well.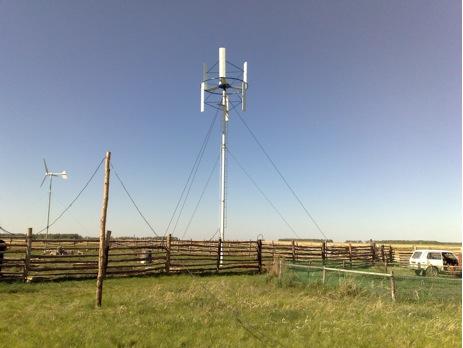 Compare this to the largely unfunded or underfunded small groups, which lack the talent and resources to undertake a truly competitive VAWT development effort. Since large-scale turbines cost millions to prototype, it is no mystery why nearly all the VAWT development efforts have been on a small scale.
With regard to small-scale horizontal axis wind turbines (HAWTs), it is not reasonable to take performance data from multimillion-dollar machines and say that a scaled-down, much cheaper version will give the same performance. In fact, data from the CADMUS Group showed that the performance of small HAWTs was nowhere close to promotional claims. In fact, on average the power output was about one-third of that projected. In the small wind sector, claims about the superior performance of the HAWT vs. the VAWT need to be carefully considered.
Large wind turbines, carefully sited to take advantage of strong and highly directional wind flows, achieve very good efficiency figures, but the results from these expensive machines simply cannot be applied to any HAWT located in a less than ideal site. Far too often, overzealous marketing outweighs good engineering when it comes to small wind turbines.
For most small wind turbines, the location is selected not because there is a good wind resource, but due to the buyer's need to obtain power from the wind resource at a specific location. This means that most small wind turbines are installed in suboptimal wind locations. Small wonder that the performance is well below the utility-scale turbines.
A location where the wind direction is highly variable will result in poor performance for a HAWT, while a VAWT that catches equal power from wind of any compass heading will outperform the HAWT in these locations.
Another feature of industrial-scale HAWTs is their high tip speed ratios (TSRs). There is ample evidence that higher speeds on the windmill blades result in more efficiency, but this efficiency comes at a price. Noise downwind of these turbines has been a major factor for wind farms using these machines. For smaller HAWT units, the noise is of a different sort as the turbine spins up and down and clatters about adjusting to the wind direction. Using a lower TSR, the Wind-Sail VAWT still achieves good performance on a machine that is nearly silent.