Rollforming of sheet metal plays an integral role in the building and construction of commercial and industrial structures. We come across things that have been rollformed every day without taking notice of them: guardrails that keep your car from going over the edge on the road, ceiling tees, roof sheeting, purlins, shelving, window and door frames, balustrades, flashings, gutters, ovens, and much more.
Homemade rollformers
Metal rollforming can be an intricate process. Precision and accuracy are fundamental in the rollforming process to ensure a high-quality end result. Many companies have built their own rollformers, and often they work if run at slow speed without intricate punching where precise length and spacing are critical. But for top outputs, top-of-the-range machinery is required. The top rollforming machines are expensive, because they are designed by qualified and experienced rollforming mechanical engineers using the best materials available. They are also guaranteed to produce a final product without huge amounts of waste due to poor engineering. This kind of accuracy in the end product only comes from using top-quality machines that are perfectly engineered and come at a price to match.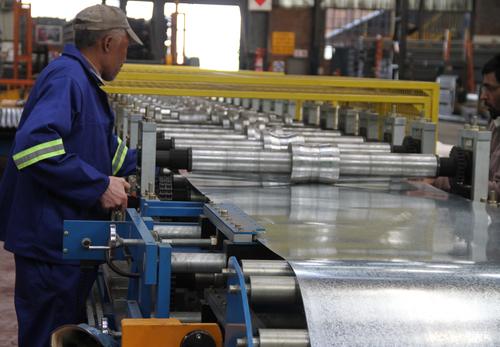 Labor in rollforming
Faced with an increasingly uncertain and volatile global economic climate, many businesses today are seeking alternative ways to cut costs in an effort to ensure that profit levels remain optimal. The rate of technological breakthrough in the realms of industrial machinery is reducing the need for manual labor.
Modernization in the workplace is an inescapable reality facing today's factory owners. The cost of machinery relative to the cost of labor and materials means it is now cost-effective to use quality, high-speed automated equipment above manually operated, labor-intensive machinery.
Rollforming can be labor intensive where each small machine does one specific task and is managed by a machine minder and two helpers. It is a process that is open to human error and resultant losses in productivity and production. Companies that have moved toward automation have seen a resulting increase in hassle-free production and unmistakable growth in their competitive advantage.
"Spending money on high-tech equipment adds value to your business, makes it more competitive, and reduces the headache of many labor issues," said Greg Fuchsloch, CEO of Metalforming Technology SA, one of the leading suppliers of metal rollforming machines. "It also means you will upskill your staff, giving them a better understanding of the job on hand and giving you a faster turnaround time and a greater competitive edge."
As global demand for services and products continues to rise, the need for faster, higher-output, reliable, time-saving, and cost-effective machinery has become essential for companies wishing to remain competitive and profitable.
"Our top-of-the-line machines can be run by one person on the floor, while the manager sits at his desk keeping a eye on the output of the line on his computer, in real-time. No longer does he have to run to the floor to find out which job is on the machine and give vague guesstimates of when a job will be ready," said Fuchsloch. "We are talking about having your finger on the pulse of your business."