Today's OEMs and end users are aware of the need to increase productivity while lowering operations and maintenance costs. Automation is a key component, but many factories and plants cannot afford the dedicated automation and IT staffs that would be needed to maintain and upgrade complex control systems.
Therefore, they're looking for automation solutions that provide real-time control in a variety of applications, along with advanced data-handling and communication capabilities. To ease implementation of these solutions, needed features should be built in, and controller programming should be powerful yet easy to understand.
In many cases, a programmable automation controller (PAC) can meet these requirements, delivering more power and built-in features than a programmable logic controller (PLC) while retaining ease of use. The right PAC will also incorporate many of the process control capabilities of a traditional distributed control system (DCS) while adding the data-handling and communication capabilities of a PC.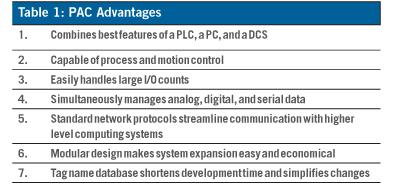 Single platform for multiple applications
The PAC is fairly new to the automation world, and though it may seem very similar to the PLC, it offers a flexibility and scalability far beyond the capabilities of the common PLC. PLCs were initially designed in the late 1960s to replace physical relays and timers. As such, they have a ladder logic programming foundation. The PAC was designed from the ground up for programming using any one of the five IEC 61131 languages.
However, a PAC's capabilities go far beyond easier and more powerful programming. PLCs are typically used for machine control, but the PAC can easily work with more advanced and multipart automation system architectures that include process control and extensive data handling. Though similar to a PLC in appearance, in terms of functionality, a PAC combines the real-time control reliability of a PLC, the standard communication protocols of a PC, and the process control capability of a DCS. Some PLCs can duplicate some of this functionality with various add-on components, but a PAC has these advanced capabilities built in.
A PAC is a single platform that can be used across multiple domains to monitor and control machines and processes. It typically contains many built-in features such as USB data logging ports, a Web server for remote monitoring and control, and an LCD screen for enhanced local user interface and diagnostics.
In order to perform machine and process monitoring and control, a PAC can receive and interpret discrete analog and digital data without the need for additional interposing components. For example, a PAC can easily and simultaneously accept analog data from thermocouples and RTDs, serial data from RFID readers, and digital values from fieldbus and device networks. This makes a PAC valuable for motion and process control applications.
In addition, a PAC offers an open architecture that enables easy interoperability with other networks and enterprise systems. Since it uses standard protocols and network technologies such as IP, Ethernet, OPC, and SQL, a PAC can communicate with both plant floor devices and higher-level computing systems such as enterprise databases -- all without the need for more processors, middleware, and network gateways.