Manufacturers of pneumatic cylinders are facing daunting challenges such as higher costs, turbulent markets, and highly specific customer requirements. Differentiating a product requires improving the components that effect performance and reliability. Manufacturers are looking for solutions that reduce friction, lower energy consumption, and decrease noise in pneumatic cylinders applications.
To help meet these goals, components such as a damper seal solution that reduces component count and machining complexity, while decreasing noise emissions and increasing performance; and a revolutionary-shaped pneumatic piston seal with extreme low friction that is installed with a floating fit have been introduced to the market.
These solutions extend lifetime, eliminate stick-slip, and provide a starting friction 40 percent lower and translatoric speed 20 percent higher than conventional solutions, which equates to 12 percent faster cycle times.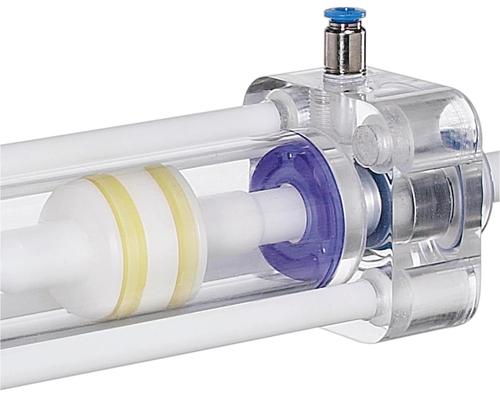 Damp & Seal
One way engineers can minimize friction is through multi-function seal designs. One solution, the Damp & Seal, integrates three functions into one component. The design damps the piston pneumatically through air throttling, mechanically damps at the end of the stroke, and seals statically against the cylinder cover.
This multi-function solution requires only one component, where previously two or three components were used. The design reduces the machining complexity of the cylinder cover and minimizes fitting defects. In comprehensive functional tests, this unique seal exhibited extremely low rebound, reducing the total stress of the cylinder.
In a comparison of the damping properties of Damp & Seal versus conventional solutions, there was an insignificant measurable rebound of the rod. This results in a constant, homogeneous movement and, therefore, reduced load on the cylinder system. Cylinders with Damp & Seal, compared to conventional cylinder solutions, exhibit faster start-up behavior and greater acceleration when starting at the stroke end position.
Noise minimization occurs due to the high elasticity of the polyurethane damping pads. With current multi-function seal solutions, noise can be held significantly below (15db below in some designs) the maximum 80-decibel level relevant to the critical range for safety equipment. The polyurethane also contributes to long service life; after 16 million cycles in the endurance test at room temperature, the seals showed no signs of visible wear.
Additional benefits of the solution include: fewer components; simplified design of the cylinder cover; easy fitting; "silent motion;" long service life; optimized damping properties; optimized start-up friction and response; flexible operating conditions; and competitive advantage.