Think there are no more metal-to-polymer conversions left in automotive design? Think again.
Materials development efforts in the past several years that were aimed at raising stiffness, impact, and heat resistance have succeeded on all counts. Combine that with the increasing sophistication of automotive designers, who are pushing the envelope on material selection as they seek to reach fuel economy goals, and you have a perfect setting for the next generation of metal replacement.
Automotive designers were originally focused on replacing metal with plastics in a limited number of applications, but today's polymeric materials are meeting the challenges of emerging design and engineering criteria in more areas of the vehicle.
While the easy applications have long since been converted -- those that are left are the tougher ones -- the good news is that the palette of polymer alternatives has become tougher, as well. Further, automotive engineers now have a better grasp of best-practices for designing with polymers.
Rather than looking for materials that can replace a metal part using the identical geometry, designers are now capitalizing on the additional freedom to form plastics into net shapes. The substitutions aren't limited to metal either. Designers are also replacing thermoplastic vulcanizates (TPVs) with easily recyclable and colorable thermoplastic elastomers for a host of benefits. Let's take a look at some reasons and examples.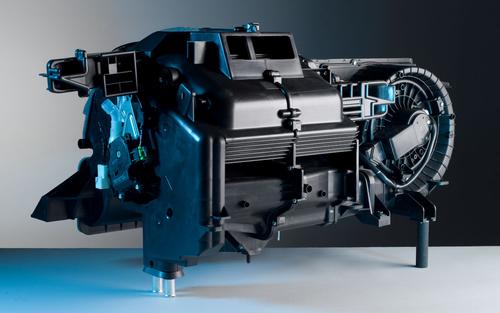 Why replace traditional materials?
Today, there are four compelling factors driving metal replacement in automotive applications -- weight reduction, design freedom, part geometry, and part consolidation.
Reducing weight is at the top of the list. Studies by the EPA and other organizations show that every 5 percent of vehicle weight removed can improve fuel economy by 2 percent. Generally, replacing a metal component with a plastic one results in a 50 percent weight reduction, so the math is attractive to designers striving to reach Corporate Average Fuel Economy (CAFE) targets.
Better fuel economy also means lower greenhouse gas emissions, which rose again globally by 2 percent in 2012 to a record high of 2.4 million pounds per second.
Running a close second on this list is the additional design freedom that today's advanced plastics afford. In other words, advances in polymer formulation technology are enabling more design freedom than ever before. Rather than welding, fastening, and bending -- all of which require secondary operations and therefore more cost -- most automotive plastic parts are produced to net shape in one automated operation.
Geometry is yet another freedom. Plastic part design has become a sophisticated science, enabling parts to be designed to exact contours to save space under the hood. Additionally, bumpers and fascia can be more aerodynamic and stylish, and interior components can bend to the designer's will for greater differentiation.
Finally, all of these factors combined allow multiple metal parts to be redesigned and replaced by plastics and consolidated into a single unit for reduced after-sale maintenance and production process improvement.