Ongoing efforts to increase fuel efficiency, tactical mobility, and payload capacity in aerospace design have driven design engineers to research numerous strategies that reduce mass through the extensive use of lightweight materials such as composites, aluminum, and plastics.
However, use of these lightweight materials can create other compromises. A secondary issue arises: finding safe and reliable methods of fastening assemblies that can protect against fastener loosening while minimizing assembly and maintenance costs. These methods must provide complete assurance of joint integrity under the severe conditions of shock, vibration, and thermal cycling common in aerospace environments.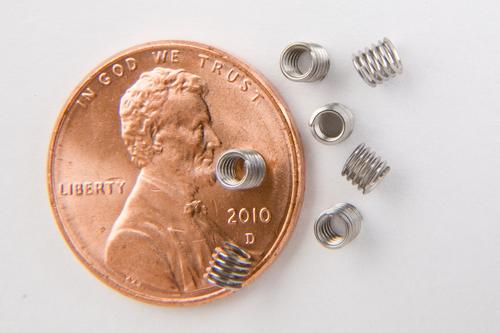 Assemblies that combine lightweight materials create additional challenges. Considering aluminum as an example. Cold forming threads directly into this material or utilizing a wire insert are common practices, yet most composites are too brittle to be tapped. Shear strength and concentration of forces need to be carefully reviewed in order to confirm that specific loads and vibration environments can be tolerated. Structural joints in particular rely on high strength to develop sufficient pretension in the fasteners used to assemble them.
In most structural joints using lightweight materials, the parent material needs to be reinforced through the use of a wire or ultrasonic insert. The implementation of inserts allows higher joint tension and extended reusability, compared with a hole tapped directly in the softer materials.
Tapping into aluminum with a small thread increases the risk of galling, seizing, and thread shear. This is particularly true when considering reusability of the threaded hole, since smaller threads are much easier to ruin in soft material.
One solution is to choose one the variety of thread reinforcement options being utilized in aerospace applications: wire thread inserts for aluminum or soft materials, potted blind inserts for composites, and ultrasonic or molded inserts for plastics. However, the majority of these inserts still fall short of addressing the limitations and potential for vibration-induced thread loosening that are inherent in the standard 60-degree thread form.
Fortunately, advances in fastener insert technology protect against fastener loosening or failure in the field, with the additional benefits of reducing assembly time, maintenance costs, and even overall weight.