"My nontechnical friends are astonished at the amount of technology in a seemingly simple product," says Matthias Richwin, senior manager for technology development and quality using simulation at KOSTAL, a supplier of interior switching modules to the world's leading automobile companies. "They are equally intrigued by the fact that behind every switch in their cars, there is a multidisciplinary team of engineers."
Richwin's friends are not unusual. There are drivers everywhere who turn on their headlights or windshield wipers with no awareness of the development effort behind a switch. Yet from freezing winter to sweltering summer, on dull rainy days and in bright sunshine, switches are expected to function consistently for the lifetime of a car.
Six decades of electrical switching
Considerations of style, safety, space saving, and user convenience have been the drivers for 60 years of innovation at the Automotive Electrical Systems division of KOSTAL Group. Since the early days when the company placed indicator switches by the steering wheel and created integrated function pushbuttons, it has registered a wide range of patents. Core product areas include steering wheel column, center console, and roof module systems. Customers include BMW, Daimler, Ford, and the Volkswagen Group.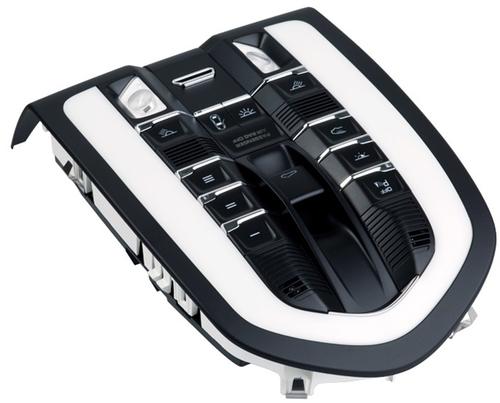 Richwin explains how simulation became an intrinsic part of the design process at KOSTAL: "We have some specialist tools, such as FEA software for mechanical design, but were increasingly in need of thermal simulation and anticipated a requirement for electromagnetic simulation, so I began to investigate the options. We selected COMSOL Multiphysics. It offered the user interface as well as the integration with the CAD, electrical design, and manufacturing applications we use. In 2009, we began using the software for the thermal simulation of roof modules."
Simulation is now so embedded in new product development at KOSTAL that it is simply considered a common design task and is considered to be a key in three areas.
Light efficiency versus heat dissipation
The lighting inside today's cars is complex and highly integrated, moving far beyond the courtesy light that comes on when a door is opened. The roof module (see figure 1) in a premium car is likely to house antitheft and satellite navigation systems as well as extras such as ambient lighting.
"The industry has moved away from the classic bulb to LED displays," says Richwin. "Although LEDs are much more efficient because they require less power, 90% of the heat they dissipate goes into the printed circuit board (PCB) of the roof module. We tackle this particular challenge by using multiphysics simulation software to predict thermal behavior and optimize performance. Whereas we previously had to build and test, we can now easily predict performance and, for example, show a customer that a roof module will work at optimal brightness over the whole environmental range."
Clean, convenient, automatic battery charging
One of the disadvantages of an electric car is the need to charge it regularly, and since charging typically takes six to seven hours, forgetting to do it one day may mean being stuck without transport the next. The team at KOSTAL therefore expanded on the electric toothbrush concept. Richwin explains: "The idea is to charge a car not by using a cable, but by moving it to a charging system. As with a toothbrush and its covered charging base, there are no contacts."
This idea scores on every level -- for security, safety, and comfort. The driver just parks the car in the same spot every day or night, with no need to even think about handling and plugging in a cable. "We worked on the basis that if a transformer is cut in two and the two halves are moved apart, it would still perform through inductive power transfer, albeit with less efficiency," says Richwin.