Industrial workplaces are governed by OSHA rules, but this isn't to say that rules are always followed. While injuries happen on production floors for a variety of reasons, of the top 10 OSHA rules that are most often ignored in industrial settings, two directly involve machine design: lockout/tagout procedures (LO/TO) and machine guarding.
Lockout/tagout procedures are ostensibly designed to protect employees from the unexpected startup of machinery or the release of hazardous energy during service or maintenance activities. For a variety of reasons, however, these procedures are often bypassed or abbreviated, and this can result in injury or death.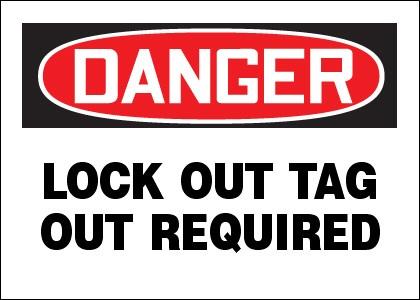 According to OSHA, three million US workers service equipment, and these people face the greatest risk of injury if lockout/tagout procedures are not properly followed. The federal agency estimates that compliance with LO/TO standard (as governed by Standard 29 CFR 1910) prevents an estimated 120 fatalities and 50,000 injuries each year. A lack of compliance leads directly to lost lives and injuries: One study conducted by the United Auto Workers (UAW) found that 20% of fatalities that occurred among their members between 1973 and 1995 (83 out of 414) were attributed directly to inadequate LO/TO procedures.
Much of the blame for a lack of compliance with LO/TO rules has fallen on the cumbersome nature of the rules, combined with poor machine design. According to George Schuster, a functional safety expert with Rockwell Automation, some of the government regulations range from simply impracticable to nearly impossible with existing equipment.
MORE FROM DESIGN NEWS: Why You Should Assess Your Machines' Safety
"Unfortunately, there are many systems where LO/TO rules, combined with a safety system that is poorly integrated with work and maintenance tasks, create an incentive to bypass proper safety procedures," Schuster told Design News. "In some cases, critical maintenance or repairs simply cannot be performed to a system or machine without bypassing a safety procedure or system due to poor safety system design."
Machine technicians and workers who ignore safety rules can appear to be more productive, and employers have been known to look the other way from violations in order to stick to schedules and keep costs down. When accidents do happen, OSHA blames employers, and employers blame employees. Machine designers, however, have a responsibility to take away the incentives to violate rules when it comes to LO/TO.
MORE FROM DESIGN NEWS: Double-Lock the Lock-Outs, or Lose a Hand
The focus for designers, Schuster says, should be on finding ways to ensure that machine designs streamline safety tasks, ensuring daily maintenance and operation can be performed quickly and safely. This requires a thorough understanding of all tasks associated with a machine and the associated hazards, and this understanding comes from proper risk assessment.
"Many designers are leveraging the OSHA Minor Servicing Exception, along with ANSI Z244-1 'Control of Hazardous Energy – Lockout/Tagout and Alternative Methods,' to create systems that can safely accommodate the required tasks while streamlining equipment shutdown and restart during maintenance and operation," said Schuster.
In addition, machine designers will be assisted by newer technologies and procedures that ensure safe equipment speed, direction, and position. The result is the elimination of the need to bypass existing safety controls to save time and work, essentially creating an attitude of "the best way is also the safest way."
In addition to safety gains, improved LO/TO safeguards in machine design can also lead to significant reductions in mean time to repair (MTTR) as maintenance, repair, and operational procedures can be shortened and streamlined.
Tracey Schelmetic graduated from Fairfield University in Fairfield, Conn. and began her long career as a technology and science writer and editor at Appleton & Lange, the now-defunct medical publishing arm of Simon & Schuster. Later, as the editorial director of telecom trade journal Customer Interaction Solutions (today Customer magazine) she became a well-recognized voice in the contact center industry. Today, she is a freelance writer specializing in manufacturing and technology, telecommunications, and enterprise software.