The Curiosity rover took its first scoop of Martian soil last month. This achievement, like nearly everything the rover has done since its dramatic landing on Mars, was made possible by 31 actuators. Each actuator consists of an encoder, a brushless DC motor, a planetary gearbox, a brake, and a resolver.
The actuators, made by Aeroflex Corp., are located throughout the rover, and are responsible for most of its moving parts, including its wheels, robotic arm, and remote sensing mast (the rover's "head"), among others.
Today, these actuators are driving Curiosity around on the surface of Mars. But engineering difficulties with the actuators caused the mission's launch to be delayed by two years (the first such launch-date slip since the Viking program in the 1970s), and put the program at risk of cancellation by Congress.
Click on the image below to see images of the rover on Earth and on Mars.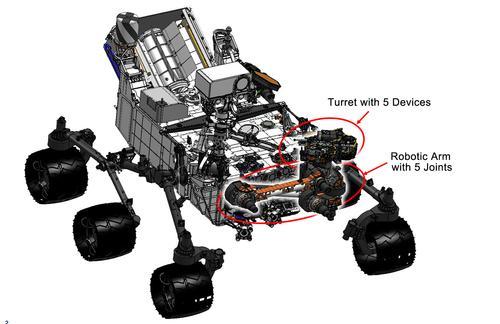 I spoke with Rob Manning, NASA's chief engineer for the Mars Science Laboratory (the official name for the Curiosity rover), about these difficulties, and how his team successfully overcame them. I started my conversation with Mr. Manning by mentioning that many Design News readers daydream about the kind of work he and his teammates do.
"Sometimes we daydream about having a normal life," he replied. Managing a high-profile space mission can be a "rocky road," but that's "typical when building things of this complexity."
"Our foibles are highly visible," Manning said. "They're watched by Congress and the public with a lot of scrutiny." On the other hand, the sense of accomplishment when everything comes together is indescribable. He spoke with obvious excitement about the challenges of producing "fantastically complex designs" and making them work, millions of miles from earth.
Manning is starting his 33rd year at NASA. The Mars Science Laboratory is his 14th project, and his third as chief engineer. Before Curiosity, Manning was the chief engineer for NASA's previous Mars rover missions, including the Spirit and Opportunity rovers in 2004, and Mars Pathfinder, the vehicle that landed the diminutive Sojourner rover in 1997.
Sojourner was designed for a seven-day mission, although it survived for a total of 83 days. Spirit and Opportunity were each designed for 90-day missions. Spirit survived for six years. Opportunity is still active today, but must hibernate during the Martian winter, which lasts more than four months. During this season, temperatures drop as low as -120C (-184F). The demise of the Spirit rover has been attributed to these extremely cold temperatures.
In contrast, Curiosity was designed to operate throughout the Martian year. This means that its actuators must be capable of functioning even during the cold of the Martian winter. As the temperature decreases, the viscosity of liquid lubricants increases exponentially. To put this into perspective, a grease that, at room temperature, has a base oil viscosity similar to SAE 20 motor oil, at -120C would have a base oil viscosity higher than that of molasses.