Going digital
In only two weeks, eQuality Tech developed key parts of the process that could speed Fight-Bite's production twentyfold.
The first step in the digital process is 3D scanning of the dental impression for the athlete. eQuality Tech uses a Rexcan DS2 scanner from Solutionix, which is designed for dental and small-component scanning. Set-up and scanning takes only two minutes. The output is a standardized STL-format CAD file that is imported into Geomagic Studio software.
"Geomagic Studio plays a major role in the process," said Urosev. "Its ability to thoroughly automate what used to be manual steps is amazing."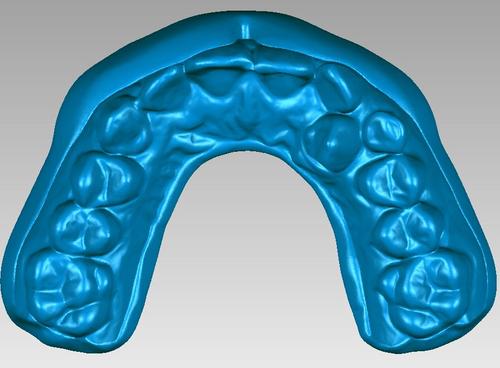 After bringing the scan model into Geomagic Studio, Urosev decimates it to reduce its size for faster processing, then fills holes and reduces data noise that gets collected during the scanning process. The sculpting tool in Geomagic enables Urosev to define, add, and remove the margin lines needed for manufacturing. He then takes a scan of the exterior shape of the athlete's mouthguard and aligns it with the clean impression.
"This is a bit tricky," said Urosev, "since the shape of an existing mouthguard does not match the shape of the new impression. Geomagic Studio enables me to warp and shape the regions that are different, then merge the two together to create a new mouthguard."
The last step is cleaning up, trimming, filling holes, and removing overlap to create a watertight 3D digital model.
Tackling the manufacturing challenge
With the daylong process of manually creating a customized mouthguard reduced to a one-hour digital process, eQuality Tech and Fight-Bite are turning their attention to manufacturing.
One of the sticking points is the materials used in mouthguards -- ethylene vinyl acetate (EVA), or PolyShok. Currently, no 3D printing device uses these types of materials. eQuality Tech and Fight-Bite are exploring three different options:
3D printing the mouthguards if a 3D printer can be found to handle EVA or PolyShok
3D printing a simple mold and pouring EVA or PolyShok material into it
3D printing a simple and cost-effective tool that can form the EVA or PolyShok into a mouthguard.
Conquering the previously impossible
The timing for mass customization of mouthguards couldn't come too soon for Fight-Bite, as the company seeks to expand beyond its core market of mixed martial arts to other sports such as football, basketball, ice hockey, and lacrosse.
"We're concentrating on producing highly customized products in a mass setting," said Bitterman. "We think we can now do what was thought impossible just a couple of years ago."
—Bob Cramblitt is a freelancer who writes about 3D digital technologies that transform the seemingly impossible or highly improbable into reality.
Related posts: