Electronic ballasts used in fluorescent lighting systems can experience high failure rates, resulting from end-of-life (EOL) issues. The IEC 61347-2-3 standard specifies three tests to simulate the effect of the lamp's end of life: the asymmetric pulse test (Clause 17.2); asymmetric power dissipation test (Clause 17.3); and the open filament test (Clause 17.4). Any one of these three tests can be used to prove the eligibility of the electronic ballast. At the end of the lamp's life, the standard requires that the ballast shall not make the lamp holder overheat at any voltage between 90 percent and 110 percent of the rated supply voltage.
One of the protective measures recommended for electronic ballasts is to connect a resettable PPTC device in the resonant circuit, in series with a resonant capacitor to achieve abnormal-state protection. With this solution, when the fluorescent tube is in a normal state and the electronic ballast is powered on, the inductor, capacitor, and PPTC thermistor form a series-resonant circuit to make the fluorescent lamp function normally. At this point, the low resistance of the PPTC device will not affect the resonant circuit. If an abnormal state occurs due to deactivation of the filament caused by an aging filament or tube leakage, the PPTC device will activate within seconds.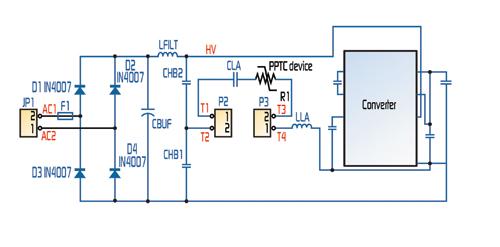 The figure shows a protection scheme utilizing a PPTC device in a T5 14W electronic ballast with integrated ICs. The PPTC device is connected in the LC series resonant circuit, shown as R1. During normal operation, the resistance of the PPTC is very low and does not affect the normal operating resonant state. If an EOL abnormal state should occur, the current flowing through the resonant circuit will increase to approximately five to six times the normal operating current, causing the PPTC device to trip and device resistance to increase.
The resonant circuit formed by the PPTC device's increased resistance will cause the inductor and capacitor to change resonance, and the IC will change the resonant frequency of the ballast. The increase of the resonant frequency of the ballast will reduce the power of the ballast, thereby reducing the current flowing through the filament and providing the required ballast protection. After the fault has been removed and the power is cycled, the resistance of the PPTC device will return to its original state and the ballast can return to normal operation.
When specifying the resistance of a PPTC device in these applications, the maximum operating temperature and maximum operating current must first be obtained. Next, the appropriate PPTC device can be identified by using the temperature derating curve, and, finally, it must be determined that the PPTC device complies with the standard for the shortest time required for protection.
Related posts: