For safe fusing, choosing a flameproof resistor is necessary, but it is not always sufficient. Flameproof status simply means that the resistor coating will not support sustained combustion. However, a flameproof resistor can cause smoking and even fire under moderate overload conditions, as very high body temperatures can be reached prior to fusing. This can cause charring of the PCB or ignition of adjacent components. The two defenses against this are defined fusing characteristics and PCB standoff leadforms.
The pulse performance of typical products from TT electronics is shown in Figure 2, below. Often these peak voltages may be raised by up to 100 percent by special winding design, enabling cost savings through the use of a smaller body size. Note that at ohmic values above about 1K0, it may be possible to use metal oxide technology as a lower cost alternative to wirewound.
When calculating the peak voltage across the line input resistor, it is necessary to subtract the clamping voltage of the MOV, typically 700V to 1,000V, from the peak voltage applied to the circuit.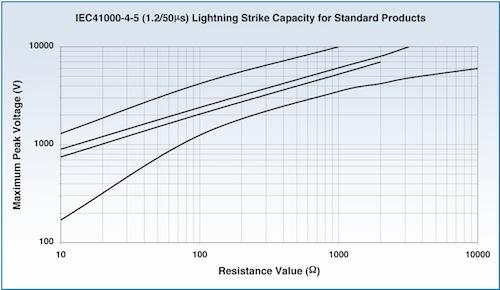 Voltage measurement The voltage measurement input is derived by resistive division of the line voltage. This entails direct connection to the line input and therefore exposure to the same high-voltage pulses as the line input resistor. However, as the divider feeds a high-impedance input, much higher ohmic values (typically 470K to 1M0) may be used, so pulse energy is correspondingly reduced.
This is often achieved by means of a series chain of between four and eight MELF resistors, which provide the required stability, and in series combination, the required rating and pulse capacity.