A well-designed quick coupler allows you to remain blissfully unaware of its user-friendly and effective operation. Regardless of where couplers are used and how helpful they can be, they must also be robust enough to withstand the application and safe enough for the end user.
Watering systems for the flooded lead acid batteries used in golf carts offer one example of an unforgiving environment for quick couplers. Water needs to be replaced in these battery cells as it evaporates over time due to the heat generated by charging, daily use, and ambient temperature. These systems consist of automatic shutoff valves interconnected by tubing, which replace vent caps. The quick coupler allows the system to be connected to a water supply. Once connected, water flows into each cell until it reaches the correct level.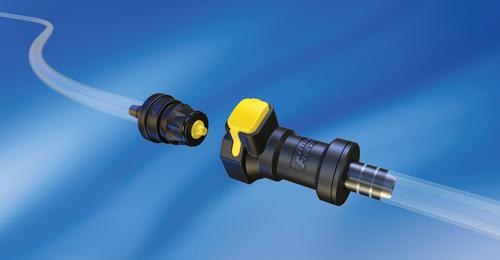 The couplers in battery watering systems must be corrosion and acid resistant in the event they interact with battery acid. The material used should be UV resistant, since these couplers are installed on outdoor vehicles. The design must handle the pressure range needed for the valves to operate properly. Since golf course staff might water more than 100 carts in a day, it is essential for the coupler to be ergonomically correct. This all needs to be taken into consideration when choosing the right coupler specific to golf cart battery watering.
Lift trucks powered by flooded lead acid batteries bring their own set of environmental challenges to couplers on watering systems. The construction and material used requires greater durability in an industrial setting. Extreme temperatures from summer heat and refrigerated warehouses can be damaging if the structure and materials are weak. Rough routine handling by personnel quickly moving from one battery watering system to the next puts strain on a coupler. A properly designed quick connect can make all the difference.
Applications with very specific quick coupler needs include chemical and medical equipment. Error-proofing is paramount in these types of equipment, which therefore greatly benefit from keyed connections. Lines can be mistakenly switched to create an expensive and dangerous result. Keyed couplers put a stop to accidents by alerting the end user to an incorrect connection. Color coding couplers further directs end users to a correct fit.
Flow-Rite recently launched a line of gamma sterilizable quick couplers. These couplers have keyed connection options to prevent mistakes in sensitive applications while being durable enough to withstand use in industrial and outdoor equipment. The material used for construction is acid, corrosion, and UV resistant. Disconnecting is hassle-free.
Related posts: