As soldiers carry more portable electronics, battery weight becomes an issue. On a 72-hour mission in Afghanistan, a US soldier will carry 70 batteries for such devices as night-vision optics, GPS, imaging systems, and communications gear. This adds 20 pounds to a combat load, one-fifth of total weight, says the US Army Research Laboratory (ARL). The load can contribute to fatigue and affect movement during combat. On the cost side, an infantry battalion spends $150,000 per year on batteries, its second-largest expense after munitions, ARL reports.
Sustainable power sources are thus high on the Pentagon's must-have list of soldier technologies. One promising concept is biomechanical energy harvesting, in which body motion generates electricity. SpringActive Inc. of Tempe, Ariz., is developing such a device, which it calls SPaRK -- Soldier Power Regeneration Kit -- with funding from the Army's Natick Soldier Research, Development, and Engineering Center in Natick, Mass.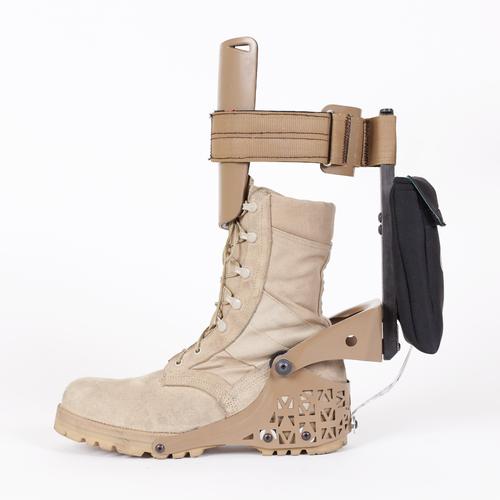 The device generates and stores electricity as a soldier walks. Jeff Ward, a partner and senior engineer at SpringActive, says that at 3 mph, both legs continuously generate a total of 6 to 9 watts, enough to recharge two AA batteries after 85 minutes. This is a good result, he says, and is achievable because an electromechanical generator is used for power generation instead of piezoelectric crystals, which produce lower output.
The initial design uses an exostructure that attaches to a soldier's boots. Ward says SPaRK will become an integrated component, which will be more comfortable to wear. Initial data shows "no significant increase in metabolic cost for harvesting energy while walking at 3 mph," he adds.
The main components include a Kevlar pull cord, a ball screw with 1mm pitch, a spring, and a motor/generator. (In this design, exciting motion in the motor collects energy, whereas in most motors voltage is applied to produce motion.) The device is activated by the energy generated by the user's gait.
The generator is above the ankle and attached to the pull cord, which is affixed to the heel. After a heel strike and about 20 percent into a gait cycle, the cord, also connected to the ball nut and spring, is pulled taut by the generator as the tibia moves forward over the ankle joint.