Medical MIM applications are also on the rise, primarily driven by a macroeconomic focus on dramatically reducing healthcare costs. While the European and US healthcare markets are somewhat mature, the global aging population creates opportunities for the medical industry. According to The Centers for Medicare and Medicaid Services, healthcare spending growth in the US will continue to grow more quickly than GDP for the foreseeable future, despite economic downturn periods.
For example, Parmatech is using MIM for parts used in manufacturing bariatric and laparoscopic instruments, including articulation gear for varying the direction of the working end of the device. The company is using MIM to produce complex, three dimensional shapes that are difficult or near impossible to manufacture using conventional fabrication technologies. MIM provides for complex shapes in a high-volume manufacturing process, and supports the drive toward miniaturization of surgical devices and lowered costs for healthcare equipment. As a result of the trend toward miniaturization, most of the parts made with MIM technology weigh less than 50 gm, and can be additionally lightened by adding holes or pockets without sacrificing strength.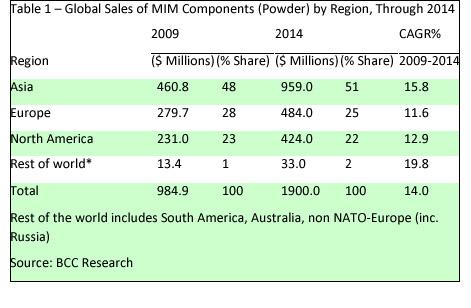 In addition, as US and European OEMs seek to penetrate emerging markets and the BRIC (Brazil, Russia, India, and China) players, cost pressures become the primary success driver; thus, many medical OEMs are looking to cost-saving technologies like MIM with renewed interest.
Figure 1 illustrates the growth in MIM sales over the past 25 years. The upper curve traces global powder injection molding (PIM) annual sales versus calendar year and the lower curve shows the corresponding metal powder injection molding (MIM) contribution.
Macroeconomic drivers strongly support continued MIM growth. Table 1 illustrates the projected growth rates, with the global MIM market projected to grow from $985 million in 2009 to $1.9 billion in 2014, representing a 14 percent compound annual growth rate (CAGR). In North America, the market for MIM product is projected to grow from $231 million in 2009 to $424 million in 2014. In Europe, the market for MIM product is projected to grow from $280 million in 2009 to $484 million in 2014.
With such clear-cut macroeconomic and socioeconomic growth drivers, strong technical players in MIM can expect to bring more value to customers than any of us ever imagined.
Related posts: