Contrary to what one might deduce from popular media, wearable technology is not a totally new concept. Wearable technology has been used in military applications for several decades. Products in the category also have included wrist-mounted, wearable computers (with wireless communications) and hand-mounted barcode readers. Both of these product types have been available since 1993, and have evolved through several generations of progressive improvements to enriched devices.
What is new in wearable technology is that within the last 10 years, and with recent acceleration, it is finding its way into more and more mainstream consumer applications.
Because of the increasing ubiquity of wearable technology, it would be easy to think that design of wearable devices is routine and involves common design and engineering knowledge. Having been involved in the creation of wearable devices for more than 20 years, I can attest to lessons learned that are broadly applicable to the gamut of wearables … consumer, commercial, or industrial. Missed efforts in development will be remembered once the devices are used in the field.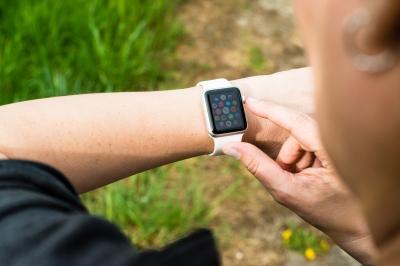 Impact Resistance
I have heard it before. "My product does not need to be rugged because it is for the consumer." Unless your product is a consumable, you do need to worry about ruggedness. "But ruggedization might affect the design aesthetic or ergonomics." Consider these a design constraint.
A wrist-mounted device is going to get smacked into hard surfaces on a regular basis. Just look at what happens to a watch face if it is not designed with a sapphire crystal. Take a look at an "everyday" watch with a standard glass crystal and you will notice how beat up the surface gets in as little as a year.
While a headset or glasses are less likely to suffer direct impacts in use, such devices will see an increased probability of drops (most often at inopportune moments). The displays, electronics, and contacts need to be designed to survive such abuse.
Sealing
Why worry so much about sealing a consumer product? The ugly truth is that people perspire. Perspiration is salty, so you are not just dealing with moisture. When salty water intrudes into the device, it wreaks havoc with contact corrosion and possible circuit board damage.
The problem is prevalent in any technology product coming into direct contact with skin. The issue is exacerbated by heat from the device and non-breathable soft goods. If the product is going to have any long-term reliability, it has to be tightly sealed.
Again, if the device is a consumable, this may not be an issue, but with wearable technology products typically starting at $100, with no upper limit, few consumers will view wearables purchases as throwaways.
Ergonomics
A wearable that is comfortable for 10 minutes in a conference room may not necessarily be comfortable when worn for hours. Watch out for "hard" edges, non-breathable soft goods, or pressure points.
In hiking boots, a minor skin contact at the start of a long hike can be noticeable. Two hours later, it is a blister. With a wearable product, a slight pressure point in a few minutes becomes a sore red mark after a few hours even if it does not produce a blister. The effect of device heating will not help the cause, either.