I installed two sets of fluorescent lights in a two-car garage as part of a renovation project. Because the ceiling has a large opening, I had to arrange the 16-foot-long rows of florescent lights parallel to the garage door opening. This setup blocked light from one row of lights when a door was open and retracted.
As an alternative to a second light switch on the wall for the lights above the door, I created an automatic switch that uses a solid state relay. The relay is housed in a double-depth four-inch octagonal junction box used for house wiring and ceiling lamps. The box attached to the wooden ceiling joist above the obstructed fluorescent lamp fixture. You can find a suitable electrical box at hardware and home improvement stores. This type of box often comes with a mounting bracket that simplifies attachment to a wooden joist.
A standard doorbell or door chime transformer provided 16VAC power for the control circuit, and this type of transformer can attach directly to the metal box. A simple circuit connected to the solid state relay control terminals rectifies the AC control voltage to provide DC to the relay. Observe the polarity of the connections to the + and - terminals on the solid state relay. A magnetic reed switch (SW2) senses when the door is open and causes the relay to turn off the lights over the opened door.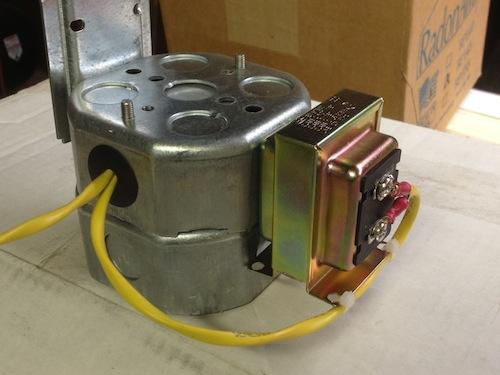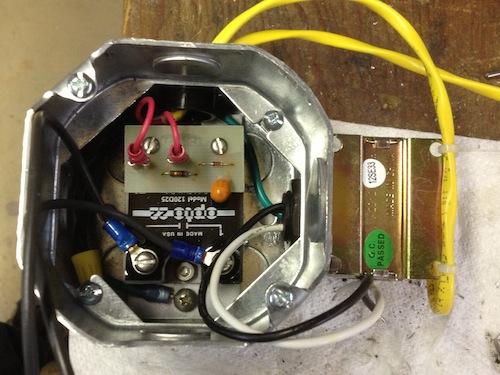 Do you have a Gadget Freak project you would like the world to see? Send a brief description of your gadget and a photo to Senior Editor Rob Spiegel.
Table 1: Allied Parts List

| | | |
| --- | --- | --- |
| Amt | Part Description | Allied Part # |
| 1 | Magnetic Reed Switch SPDT, 100V DC (SW2) | 70207651 |
| 1 | Solid State Relay, 120D25 | 70133853 |
| 1 | 1N5404 Diode, 3A, 400V (D) | 70015976 |
| 1 | 1000-ohm, 1/4W, 5% Carbon-Film Resistor (R) | 70022897 |
| 1 | 15 uF Capacitor, Tantalum, 10%, 35V (C) | 70195937 |
Table 2: Non-Allied Parts List

| | |
| --- | --- |
| Amt | Part Description |
| 1 | 4-in. Octagonal Junction Box |
| 1 | 4-in. Octagonal Junction Box Extension |
| 1 | 4-in Square Cover Plate |
| 1 | 16V AC Door Chime Transformer (T) |
| 1 | Magnet |
The editors of Design News have handpicked your favorite Gadget Freak cases from over the years, bringing them together in a dynamic digital edition, complete with videos, which you can view here.