Most dishwashers come equipped with an indicator that lets people know when the dishes have gone through a complete washing cycle. Some people will open the dishwasher and get some clean dishes, but they won't unload it completely. The "clean" indicator will turn off, but people might not know whether the dishes are clean.
This gadget uses a flashing green LED to let people know the dishes are clean. An infrared proximity sensor detects the presence of a person near the dishwasher and turns on the LED circuit. The LED state remains set until someone completely empties the dishwasher. Even after you open the door and take out only a few dishes, the green LED will flash when people approach the dishwasher, so they see a reminder to unload it completely.
After the dishwasher is emptied, a red LED starts flashing, and people can start to load it with dirty dishes. Now no one will have any doubt about whether the dishwasher is full of dirty or clean dishes. The indicator tells it all.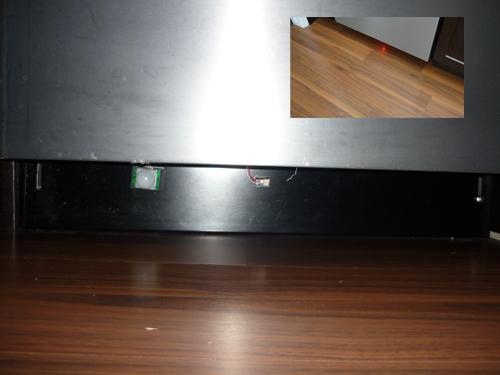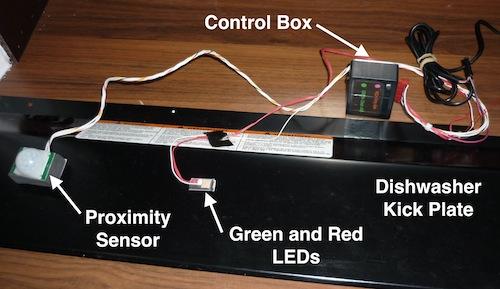 Do you have a Gadget Freak project you would like the world to see? Send a brief description of your gadget and a photo to Senior Editor Rob Spiegel.
Table 1: Allied Parts List

| | | |
| --- | --- | --- |
| Amt | Part Description | Allied Part # |
| 1 | PowerSupply; AC-DC; 5VDC@2A; 100-240VAC (PS) | 70231021 |
| 1 | Trimmer Resistor, 1000 ohms, 1-Turn (R1) | 70041142 |
| 1 | Resistor, 2200 ohms, 0.25W (R2) | 70022903 |
| 1 | Resistor, 250 ohms, 0.5W (R3) | 70200969 |
| 1 | ATtiny85 8-bit AVR RISC Microcontroller, 8-pin DIP | 70045478 |
| 1 | LED, Green (D1) | 70079164 |
| 1 | LED, Red (D2) | 70079117 |
| 1 | Enclosure, ABS, Black, 4.3 x 2.8 x 2.1 in. | 70016643 |
| 1 | Socket, 8-pin DIP | 70206586 |
Table 2: Non-Allied Parts List

| | |
| --- | --- |
| Amt | Part Description |
| 1 | Arduino UNO Development Board |
| 1 | Pyroelectric Infrared Proximity Sensor |
| 1 | Thermistors, PTC 3900 ohms, 1%, Linear |
| 1 | Tilt ball switch |
| | |
| | Miscellaneous |
| 1 | Perforated Breadboard Material (Veroboard) |
| | Stranded Hook-Up Wire |
| | Double-Sided Tape |
| | Plastic Tubing |
| | Epoxy Cement |
| | Extension Cord |
The editors of Design News have handpicked your favorite Gadget Freak cases from over the years, bringing them together in a dynamic digital edition, complete with videos, which you can view here.



More Blogs from Gadget Freak

25
When Dick Neubert discovered that his fireplace's heatilators lost heat when not in use, he created a gadget to rectify the situation.

4
The final showdown is under way in our first-ever Gadget Freak of the Year contest. Who will win an all-expenses-paid trip to the Pacific Design & Manufacturing Show? It's up to you, dear readers, to tell us.

16
Meet the winners from the six rounds of Gadget Freak of the Year semi-final competitions. The winner of this group becomes Gadget Freak of the Year.

14
After six rounds of voting, it comes down to this -- the final showdown. Who created the best gadget featured in Design News this year? We're counting on you to tell us.

18
Marin Davide has developed a digital stick for the blind that's designed to cost the same as a traditional stick.


LATEST ARCHIVED BROADCAST
For industrial control applications, or even a simple assembly line, that machine can go almost 24/7 without a break. But what happens when the task is a little more complex? That's where the "smart" machine would come in. The smart machine is one that has some simple (or complex in some cases) processing capability to be able to adapt to changing conditions. Such machines are suited for a host of applications, including automotive, aerospace, defense, medical, computers and electronics, telecommunications, consumer goods, and so on. This discussion will examine what's possible with smart machines, and what tradeoffs need to be made to implement such a solution.



Datasheets.com Parts Search
185 million searchable parts
(please enter a part number or hit search to begin)