At the elementary school my children attend, students exchange Valentine's Day cards with one another, and they compete to decorate or build the most interesting mailboxes. My 11-year-old daughter came home one afternoon with an idea for her mailbox. She asked me to help her design one so that a sensor would open the box automatically when someone walked by.
I started with a servo motor (and some mechanical linkages) taken from a broken remote controlled car, connected it to an Arduino UNO microcontroller development board, and connected a light sensor to one of the microcontroller's analog inputs. We wrote the code to monitor the sensor and track the average light level. The box would open only when the light level changed suddenly. Then the box would close slowly over a period of time.
We actually built two mailboxes, so my 8-year-old daughter could have one, too. My wife helped the girls decorate the boxes to look like their favorite animals. I used the Arduino software tools to create the firmware, and the Arduino board served as my MCU chip programmer. But I assembled the components, including the MCU chip, on a piece of perforated breadboard material, rather than using the Arduino UNO development board in the final project.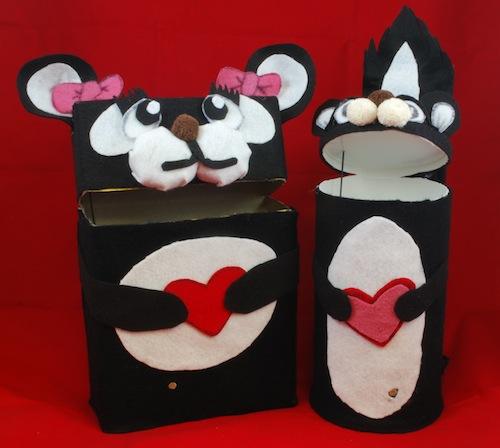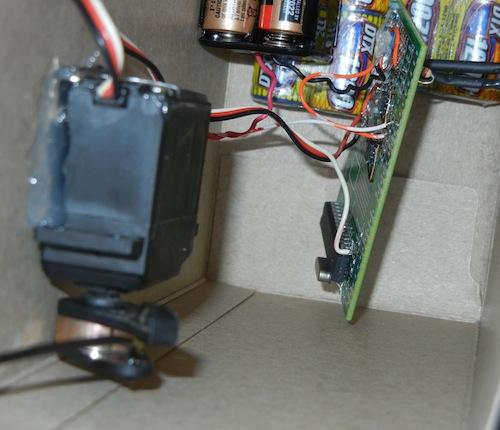 Do you have a Gadget Freak project you would like the world to see? Send a brief description of your gadget and a photo to Senior Editor Rob Spiegel.
Table 1: Allied Parts List

| | | |
| --- | --- | --- |
| Amt | Part Description | Allied Part # |
| 1 | Atmel Microcontroller, AVR, 32k Flash, 2k SRAM | R1100592 |
| 1 | CdS Light Sensor, 100 kohm | 70136770 |
| 2 | 5V Linear Regulator | 70021184 |
| 2 | 0.01 uF Capacitor, Ceramic, 50 VDC | 70195648 |
| 3 | 10 uF Capacitor, Aluminum Electrolytic, 35 VDC | 70186121 |
| 2 | 15 pF Capacitor, Ceramic, 100V | 70195689 |
| 1 | 10 kohm Resistor, Carbon Film, 5% (optional) | 70022898 |
| 1 | 20 kohm Trimmer Potentiometer | 70041146 |
| 1 | 1 Mohm Resistor, Carbon Film, 5% (optional) | 70023761 |
| 1 | Prototyping Board | 70012507 |
| 1 | Microprocessor Crystal, 16 MHz | 70025614 |
| 1 | Switch, Toggle, SPST | 70131568 |
| 1 | 28-Pin Socket, DIP | 70206331 |
Table 2: Non-Allied Parts List

| | | |
| --- | --- | --- |
| Amt | Part Description | Mfg Part # |
| 1 | Hobby Servo Motor | |
| 1 | Cardboard box | |
| 1 | 6 to 9V battery/battery pack | |
The editors of Design News have handpicked your favorite Gadget Freak cases from over the years, bringing them together in a dynamic digital edition, complete with videos, which you can view here.



More Blogs from Gadget Freak

25
When Dick Neubert discovered that his fireplace's heatilators lost heat when not in use, he created a gadget to rectify the situation.

4
The final showdown is under way in our first-ever Gadget Freak of the Year contest. Who will win an all-expenses-paid trip to the Pacific Design & Manufacturing Show? It's up to you, dear readers, to tell us.

16
Meet the winners from the six rounds of Gadget Freak of the Year semi-final competitions. The winner of this group becomes Gadget Freak of the Year.

14
After six rounds of voting, it comes down to this -- the final showdown. Who created the best gadget featured in Design News this year? We're counting on you to tell us.

18
Marin Davide has developed a digital stick for the blind that's designed to cost the same as a traditional stick.


LATEST ARCHIVED BROADCAST
For industrial control applications, or even a simple assembly line, that machine can go almost 24/7 without a break. But what happens when the task is a little more complex? That's where the "smart" machine would come in. The smart machine is one that has some simple (or complex in some cases) processing capability to be able to adapt to changing conditions. Such machines are suited for a host of applications, including automotive, aerospace, defense, medical, computers and electronics, telecommunications, consumer goods, and so on. This discussion will examine what's possible with smart machines, and what tradeoffs need to be made to implement such a solution.



Datasheets.com Parts Search
185 million searchable parts
(please enter a part number or hit search to begin)