Ed Nauman found that using a hydraulic press to straighten a piece of material involved guesswork. You apply the force and then gradually increase it with each successive try. You usually track the appropriate force by counting the number of pulls on the pump handle. That's not very scientific.
Nauman created a gadget that indicates the actual force being applied. The goal was to make the process of using the hydraulic press quicker and more accurate.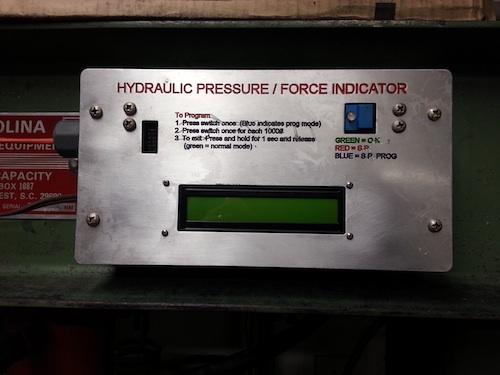 Do you have a Gadget Freak project you would like the world to see? Send a brief description of your gadget and a photo to Senior Editor Rob Spiegel.
Table 1: Allied Parts List

Table 2: Non-Allied Parts List

| | |
| --- | --- |
| Quantity | Part Description |
| 1 | Tri-color LED generic |
| 3 | Instrumentation amp -- 8-pin dip |
| 1 | 2x20 Line LCD |
| 1 | 24 to +/- 15 DC-DC Converter |
| 1 | PCB |
The editors of Design News have handpicked your favorite Gadget Freak cases from over the years, bringing them together in a dynamic digital edition, complete with videos, which you can view here.