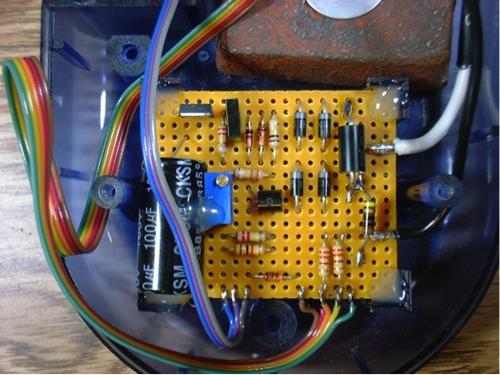 It's just what I need.

armorris
11/30/2012 8:18:18 AM
My new LED desk lamp is just what I need. I set it on a table beside my easy-chair. It produces a natural white light, like daylight. The light from the LED array is very focused, like a big flashlight. BTW, you should use LEDs with a viewing angle of 30 degrees or wider. The dimmer greatly enhances the lamp's utility. I can turn the brightness up for easy reading, or I can dim it down to the point where it perfectly illuminates my laptop keyboard, without the hassles of my USB light. Turned all the way down, the lamp produces enough light to illuminate my TV remote while not affecting the view of my TV. I also use it as a nightlight. I also use the lamp as a work light, because it can be folded or rotated to illuminate my work surface, without being in my way. The lamp is very portable and is much lighter than it was, having lost its heavy ballast coil and glass tube.


It's economical too.

armorris
11/30/2012 8:27:46 AM
The original 9-watt fluorescent tube in the lamp costs about $5 and lasts about a year with heavy use. I spent $21 on the LEDs I installed in the lamp and they should last for many years of heavy use. The remaining parts cost about $10, not including the lamp itself. The 72 LEDs produce plenty of light for reading. The lamp does not light up the whole room like the fluorescent version did, but it brilliantly illuminates whatever it's aimed at. At its focal-point it's a lot brighter than the 14-watt fluorescent lamp (with a new tube in it) that I had been using for reading. The color is better, too. Now, I'll just use my fluorescent lamps for area lighting.


You could create your own lamp.

armorris
11/30/2012 8:30:04 AM
You could use my circuit to create your own custom LED lamp. You could make a beautiful LED desk lamp out of wood. My father was a skilled furniture maker, who went into electronics when his employer moved to an assembly-line manufacturing style. When he got engaged to my mother, he had no money for a diamond engagement ring, so he made her a small, but very beautiful wooden table lamp. That lamp was far more precious to her than any diamond ring could have been. One of my sisters has the lamp now.

Re: You could create your own lamp.

Tim
11/30/2012 11:09:48 AM
Good job in creating what you need. It looks like it will last for many years. I have built standard incadescen lamps for family gifts, but next year, I might switch to LED. Great article.


Re: You could create your own lamp.

armorris
11/30/2012 11:55:57 AM
Thanks for the kind words. I'm a retired electrical engineer, living alone with nothing else to do. I don't sit around looking for stuff to create. It just happens. I see a want or need and create a solution. This blog needs more gadget submissions from other people. My ugly face is showing up a bit too often. :-)


Re: You could create your own lamp.

Charles Murray
11/30/2012 6:33:32 PM
Nice application, Andrew. Looks like the only significant cost here was the isolation transformer, at $21. By the way, if you or any reader has a good LED holiday light application, please send me a photo. As we did last year, we'll be running good photos of LED light strings at the holidays. Send to charles.murray@ubm.com.


Re: You could create your own lamp.

armorris
11/30/2012 8:15:15 PM
The isolation transformer is not actually part of the project. It is a safety device for people who breadboard and test line-powered circuits that are not isolated from the power line. You should have an isolation transformer already if you do this kind of work. The components that are part of the lamp itself are quite cheap. If you just build the circuit and don't breadboard it or test it with anything but a voltmeter, you won't need an isolation transformer.


Re: You could create your own lamp.

Rob Spiegel
11/30/2012 9:19:36 PM
Good idea, Chuck. Last year, the slide show of holiday lights was very impressive. This year it should be even better.


Re: You could create your own lamp.

Charles Murray
12/6/2012 4:52:37 PM
I agree, Rob. A high percentage of today's light strings use LED technology. Clearly, it's gone mainstream.


Re: It's just what I need.

NadineJ
11/30/2012 7:25:34 PM
This is cool for bedside use too. You can dim it enough so that it doesn't disturb your spouse and still read. Nicely done!


Re: It's just what I need.

armorris
11/30/2012 8:18:14 PM
Because the LEDs are very directional, the lamp can illuminate your reading material very brightly if desired, without lighting up the room, disturbing your spouse's sleep.


The lamp is still available

armorris
12/1/2012 10:39:46 PM
I just received an almost identical lamp from Amazon.com.

Globe Electric 5240101 Fluorescent Desk Lamp, Black

The lamp is identical to the one I demonstrated in the video, except that it is black. This lamp body is ideal for the LED conversion and it costs under $15 plus shipping. I like its compact footprint and the fact that it can be folded or rotated to shine light in any direction. I bought the last one they have in stock, but Amazon says that more are on the way.


Re: The lamp is still available

armorris
12/21/2012 12:29:45 PM
I just modified the lamp from Amazon. The head is almost identical to the one in the video, but the design of the weight and the ballast coil in the base are different. You have a lot less room to work in the new base, but because the electronics is so simple and produces no heat, I was able to do it. Amazon is currently out of the lamps, but will email me when they come in. I'll keep this blog apprised. Then you can email me for a photo and a layout drawing of the new circuit board.


Model railroading

armorris
12/2/2012 12:07:17 PM
I have a friend who is a member of a model railroading club. He wants to replace hundreds of small energy-hogging incandescent bulbs with LEDs. He is currently using triac-based dimmers. As long as he uses an isolation transformer or completely insulates all wiring, my circuit will be a safe and simple solution to his problem. I'm going to help him with that.


Re: Christmas Project

bbix
12/3/2012 11:10:26 AM
I've been wanting to use LED lights but hate the price of the prepackaged bulbs. This looks like a cool project to tinker with over Christmas and may lead to making a number of new light fixtures.


Re: It's just what I need.

78RPM
12/3/2012 2:58:59 PM
It's a practical device that anyone could use. Doesn't look too difficult to build, either. I think I'll modify my wife's floor-standing lamp. Her lamp as it is now either has a hot glaring incandescent or a lousy CFR. This might be just what she needs.


Re: It's just what I need.

armorris
12/3/2012 3:17:03 PM
78RPM,
BTW, Radio Shack sells round circuit boards that may be ideal for converting an incandescent or CFL lamp to LEDs. The SKU# is 276-004.


Re: It's just what I need.

78RPM
12/3/2012 9:26:28 PM
Thanks! I think Radio Shack should re-define itself as the Geek Shop or the Robo Shop. They should sell Sugru and 3D printers and quadracopters. Forget the consumer electronics I can buy at Best Buy. Radio Shack could hold weekend gatherings where geeks could teach geeks. In the 1970s I bought vacuum tubes to repair trashed TVs so I could resell them. Radio Shack and all similar companies should sell to us Makers. Real Guys don't do woodworking and auto repair anymore.


Re: It's just what I need.

John Duffy
12/4/2012 4:56:03 PM
I kind of disagree for two reasons. One, they are making most of their money selling cell phones and cameras and stuff (think about it, how many vacuum tubes pays for one cell phone?), plus almost everyone buys cell phones, but fewer people buy non-consumer electronics. Two, they ARE shifting back toward that sort of thing, recently stocking arduinos, dozens of kits, forrest mims books, etc, in addition to all the components, tools, etc. they had before (I heard that they might even be selling rasberry pi soon, but I'm doubt it). Anyway, the point is that they can't just suddenly change their already very profitable buisness model, but they ARE expanding in the way you mentioned.

I'm not affiliated with Radioshack, I'm just easily annoyed by people who assume people, websites and stores can and should change their whole way of doing buisness when it's already working.

Aside from that, I think the project is great, but I do want to know if it will work with high power LEDs, such as several 3W 750mA type, or even a 10W 3000mA type.


Re: It's just what I need.

armorris
12/4/2012 5:01:44 PM
John Duffy,

The circuit in it's current form is not suitable for high current LEDs. I think that at 120 Hz, the electrolytic capacitors involved will be way too large. Also huge voltage spikes will be produced when the MOSFET switches off. It would be far better to use a high-frequency switch-mode power supply for high-current LEDs.


Re: It's just what I need.

John Duffy
12/4/2012 7:24:19 PM
I see, thanks for your help.


Re: It's just what I need.

78RPM
12/4/2012 9:40:03 PM
Hi, John, You don't seem to realize that Radio Shack is not "making money." It's losing money and its stock has fallen from $13 to $2 a share in the last year. It's fighting for its life! It's business model needs to change fast. People can buy cell phones in lots of places. I want Radio Shack to *be there* in two years as a brick and mortar store and that's why I offered suggestions. They need to mix Sparkfun, Adafruit and brick and mortar into a lively model.

Keep up the good work on your electronic designs. I'm working on something new myself.

Jerry


As a casual observer of LED happenings, it seems that you have eliminated the biggest problem that LED manufacturers are having: how to get rid of the heat from the electronics. Pretty neat.


Re: Have you solved the power dissipation problem?

armorris
12/3/2012 11:40:27 AM
The LED driver circuit in this article is an adaptation of a voltage regulator circuit that I created years ago to fix an overheating problem in a cheap Chinese-made stereo set. If interested, see the link below.

http://www.discovercircuits.com/Andy/FreeSwitchMode.htm

Although the circuit is entirely my own design, I can't claim credit for the concept of voltage regulation using the rising slope of the rectified sine-wave. I first saw it here:

http://www.discovercircuits.com/DJ-Circuits/offline5v.htm

Much more recently, I found similar but different versions of the concept in three "EDN Design Ideas" articles, by different authors. I have PDF copies, but no links, if you're interested (downloaded from the site when it was free). Two of them were used to power LEDs, but neither circuit automatically adapts to the number of LEDs used, nor would they accommodate precision dimming. Mine is the only version that takes the output off the source instead of the drain of the MOSFET. This allows switching the high side of the load, with the more powerful N-channel MOSFET (i.e. half the on-resistance of a similar sized P-channel MOSFET). However, this requires a bootstrap circuit (R2, D6, D7 and C2) to provide the turn-on bias voltage for the MOSFET. It is the high-side switching that allows the precise dimming and the automatic adaptation to the number of LEDs used, plus it does not require dropping high voltage across an energy-wasteful resistor.


Re: Have you solved the power dissipation problem?

mrdon
12/3/2012 12:43:16 PM
armorris, What a cool project. I find it to be quite simple in design and its very efficient (5W). I've worked on a lot of LED lighting fixtures and they seem to be over complicated with microcontrollers and switching mode power supplies. I'm really amazed at the PMOSFETs with no heatsinks. Its amazing what you can do with PMOSFETs. Very nice project!!!


Re: Have you solved the power dissipation problem?

armorris
12/3/2012 1:28:01 PM
Thanks, mrdon. Sometimes it helps to be a dinosaur. :-) I'm an obsolete analog design engineer. Digital technology is not always the best solution.


Re: Have you solved the power dissipation problem?

mrdon
12/3/2012 1:48:14 PM
armorris, Sometimes the best solutions for today's tech problems are the "old school" circuits. Agreed, occassionally digital technology can create a problem as opposed to solving it.


Second string of LED driver may be problem

jcsretired
12/3/2012 11:23:01 AM
This circuit is very clever, and I enjoyed deciphering how it works (although I have not built it). However, I wonder about the driver for the second string of LED's. As you mention, different color LED's have different voltages. So if the "second string" voltage is greater than the primary string, then Q3 will be saturated and you basically will have two strings of LED's in parallel, and your current regulating resistors will also be in parallel (110 ohms total). On the other hand, if the secondary string has significantly less voltage either due to the rating of the LED's or to a lower number of LED's in the string, then you will have a significant collector-base voltage across Q3. It's only rated to 40 volts, and you could easily exceed the rated power dissipation if the C-E voltage reached around 30 volts. There's well over 100 volts available from the power supply, so I think this is a problem. Perhaps a 2SA821STPQ-ND would be a better choice (210 volt VCE, 200mA capability).


Re: Second string of LED driver may be problem

armorris
12/3/2012 11:32:35 AM
You're absolutely right about the transistor, but you need to balance the voltages in the strings to keep a low voltage across Q3. If you do that, then the specified transistor is fine. Also, if you don't do it, Q3 will unnecessarily waste power. The primary string must always have equal or greater voltage than the secondary strings. Also, the 220 ohm current limiting resistors will never be in parallel, as only the resistor in the primary string is used to set the primary LED current. The secondary string will have its own seperate current sense resistor. The circuit in figure 3 of the article was used as the breadboard in the video.


Dimmable LED lamp

dbell5
12/3/2012 1:44:10 PM
Excellent project, Andrew!!

I'm going to have to build one (or more) of these.

You state a minimmum of around 7 LEDs, so I figure around 21V min.

I have some reels of 12V prewired series/parallel string surface mount LEDs (3 chips and a resistor, every 50mm). If I cut some into sections, and wire 2 or more 12V sections in series, I'm guessing they should work with some triming of your circuit values. Other than the extra losses in the built-in series resistros, do you see any problems with this?



Dave


Re: Dimmable LED lamp

armorris
12/3/2012 2:05:57 PM
Hi Dave,

No, I see no problems with what you want to do. If you are running the LEDs at 20mA and have no more than 126 volts worth of LEDs, you can put them in series and probably don't need to tweak anything. If you can, bypass the series resistors in the prefab LED strings to save the wasted power. You would probably use the circuit in figure 1 of the article. If you don't mind running a third wire to the LED string, you could use one of the LEDs as the voltage reference as in the lamp and in figure 2 of the article. R4 has a lot of adjustment range to it. BTW, you can power less than 7 LEDs with the circuit, but the dimming operation will be very abrupt, due to the steep slope of the rectified sine-wave at this low voltage.


Re: Dimmable LED lamp

dbell5
12/3/2012 3:04:21 PM
Not easy to bypass the resistor, but it doesn't drop a lot when powering modules at 12VDC. 36 LEDs would be 12, 50mm modules, so I'd put 6 in series for 72V, and run two strings.

A small (5VA or so) transformer with dual primaries costs less than $5 (see DIgiKey 237-1042-ND, e.g.) and cna be used as an isolation transformer, probably compact enough to build into the base. Leave the low voltage seconary winding(s) open, and use one primary as the output.




Re: Dimmable LED lamp

armorris
12/3/2012 3:11:39 PM
dbell5, Yes, if someone can touch the uninsulated LED strip, you definitely need some kind of isolation transformer. Thanks for the cheap alternative suggestion.

BTW, if you cannot bypass the resistors in the prefab strings, you will have to add a complement to R8 and D9 to all secondary strings. If you can tap into it, you may be able to use the first resistor in one string as R8 and the first LED as D9. Then you could just parallel all additional strings with no added components.


Re: Dimmable LED lamp

dbell5
12/5/2012 6:07:08 PM
I didn't follow up on your last comment, about adding a complement to R8 and D9 to paralleled strings. This would just be a series LED and resistor, not tied into the FET drive, right? To balance the voltage applied to the strings?



Dave


Re: Dimmable LED lamp

armorris
12/5/2012 11:11:09 PM
Use the circuit in figure 2 as a reference. The strings are essentially tied in parallel. R8, D9, D10, etc is the primary string and R10, D46, D47, etc are the secondary string. Both strings connect to the source of the MOSFET, Q2. Therefore, the voltage applied to all strings would be the same and if the strings are identical, the current through them will also be the same, even though only the current through the primary string is sensed (by the voltage across R8). D9 is being used as the voltage reference to control the voltage across R8. All added strings would be connected in the identical way as the string containing R10.

The voltage on R8 is sensed by Q1 through R2 and R3 while Q2 is switched on. The switching threshold is set by the voltage on Q1's emitter.


I found a cheaper isolation transformer

armorris
12/3/2012 3:48:33 PM
Allied has a cheaper 50VA isolation transformer. 70218526. It costs just $11.66. I didn't see that when I wrote the article. That's the cheapest isolation transformer they have.


Overly Complex

colin55
12/4/2012 2:49:30 PM
The circuit is far too complex. All it needs is a capacitor-fed supply with 3 or 4 capacitors and a rotary switch.
Or you can use less capacitors and a full / half-wave set of diodes and some switches.




Re: Overly Complex

armorris
12/4/2012 4:42:21 PM
I've tried the technique you're describing and it has flaws. Potentially destructive current spikes flow as you switch from one capacitor to another. Even if you have an electrolytic capacitor across the LED string to absorb the current spikes, they will eventually damage the switch contacts. Solving this problem would make the circuit more complex than the one featured here. Also, you would not have continuously-adjustable brightness control. Also, a circuit with several non-polarized, high-voltage capacitors will get pretty large, especially when powering a large string of LEDs.


Re: Overly Complex

colin55
12/4/2012 5:54:13 PM
"Potentially destructive current spikes flow as you switch from one capacitor to another."

We switch incandescent globes with switches all our life and I have never changed a light-switch.

"Also, a circuit with several non-polarized, high-voltage capacitors will get pretty large, especially when powering a large string of LEDs."

A 22n 200v X2 capacitor is not very large. It will deliver 10mA for low illumination.




An even simpler LED driver

armorris
12/5/2012 12:28:26 AM
If you want to drive just a few LEDs, here is the link to a 20mA LED ballast circuit that I created many years ago and still use nightly to drive three white LEDs. It's even simpler than the featured circuit, but it's not suitable for large strings of LEDs. Please put a 100 ohm, ¼ watt carbon composition resistor in series with it to limit in-rush current and to act as a fuse in case of a short. Mine has one, but I don't know why it's not in the schematic. The website has not been responsive to changes or new submittals. Put a low-value pot in series with R2 and R3 if you want dimming. Like the featured circuit, this circuit is not isolated from the power line.

http://www.discovercircuits.com/Andy/20mALEDballast.pdf

The SCR can be deleted if the LEDs are permanently wired and you don't need dimming. In my application, the LEDs were switched off after the ballast circuit, requiring the SCR voltage limiter to keep C2 from exploding. You can replace the SCR with a zener diode, but then the circuit would consume even more power when the LEDs are turned off. The LED current will be approximately 20mA per microfarad of C1. The LED current will go down, requiring a larger value for C1 if a significant number of LEDs is added. Also, the peak SCR current will increase as more LEDs are added.


Re: An even simpler LED driver

cvandewater
12/8/2012 6:49:58 AM
Similar circuits are used in commercial products that are isolated, such as PIR motion detectors in outdoor lights (I had one that stopped working, a great way to learn how the darn thing is designed)

That circuit is actually simpler - after the 100 Ohm that limits inrush, it has a film cap and a bridge rectifier with a zener and Elco at its DC outputs, that is all.

With the right value film cap you can select the current, I once built a 40 LED light with the circuit, omitting the zener and using a 200V Elco.

I like to make things as simple as possible while retaining safety and functionality. This dimmable light not only has a cool factor but also re-purposes a desk light, one of the other things that I like.

Maybe I will try a design that I have been toying with for some time, by having 2 LED strings anti-parallel, so you'd only need the 100 Ohm limit resistor and foil cap. Maybe have a gas discharge tube (that I have in abundance from line protection units) across the LEDs to catch any spikes that could otherwise ruin them. These 3 component is about as simple as it gets while keeping things work reasonably well, unlike the cheap Christmas light LED string that simply has a series of LEDs hard-connected to the incoming AC, which explains why part of that string it already dead (one series string apparently did not survive a spike).


Re: An even simpler LED driver

armorris
12/8/2012 9:37:12 AM
cvandewater, I see from your name, that you must be Dutch. The last time I heard the word "Elco" used to reference an electrolytic capacitor was during my military service in Holland 38 years ago. I was in my early 20's. I learned the language and I had the time of my life. Holland was a great place to be if you are into electronics.

You mentioned that similar capacitor coupled power supplies are used in commercial products that are isolated. What do you mean? PIR motion detectors are not isolated from the power line (mains), but as with all electrical appliances, are insulated from the user. My Dutch is rusty, but I think the word "geisoleerd" would be used to describe both, but they are not the same in this context. The output of such a power supply is not galvanically isolated from the mains.

Also, I think I saw a Chinese-made LED rope light in a store that used a series string of white LEDs wired in anti-parallel configuration, like you mentioned. I couldn't see inside the molded-on power plug, but there wouldn't have been room enough inside it for anything but a series resistor. It had no visible electronics.


Re: An even simpler LED driver

cvandewater
12/8/2012 12:56:03 PM
Hi Andrew,

Yep - born & raised Dutch, but now Californian resident.

Clarification for others not familiar with the term - Elco means Electrolytic Capacitor. I was not aware that it is a typical Dutch expression.

Re: isolated, I referred to the housing, indeed the electronics are "hot" so it is required that it cannot be touched anywhere, including at openings for trimming pots to select sensitivity and timeout of the PIR detector. Unfortunately that are typical locations where (rain)water gets in, causing the demise of the detector. Usually it first starts acting weird, switching the light on and off randomly before finally failing completely.

"geisoleerd" is indeed the Dutch word for "isolated" and essentially means separated, so this can mean either the galvanic isolation from the grid or the protection of a "hot" circuit from touch by a non-conducting enclosure. So a further qualification is needed and I forgot to re-read my typing so I did not catch that my statement was ambiguous.

Most likely you found the same type of rope light that I had a section fail in.


Re: Overly Complex

78RPM
12/5/2012 12:39:26 PM
Collin55 and anyone else -- Does anyone know a source for non-polar capacitors in the 2uF to 10uF range? I'm having trouble finding them?


Re: Overly Complex

colin55
12/5/2012 1:05:49 PM
Always look on eBay for everything.



The following is just $6.63 POST FREE:



Re: Overly Complex

Sparkz
12/6/2012 9:47:01 AM
Sure- here are some caps in that range (rated for atleast 120VAC) http://tinyurl.com/aj8v59b


Re: Overly Complex

Sparkz
12/6/2012 10:48:03 AM
@colin55,

Using the rotary to switch through different current limiting caps would work but the author is right, the caps would hold a charge. So when switching from one to another, the peak (in the US) is 170V and if you switch back to that cap when the AC is at the opposite peak, it's now trying to switch a 340V potential with a large rush of current, which will pit and eat contacts.



Just add a 15k resistor across each cap to bleed it down and you are good to go!



This could help...

http://planetcalc.com/1980/


Re: Overly Complex

armorris
12/6/2012 12:11:21 PM
Excellent answer, Sparkz.

Adding series and parallel resistors was what I meant when I said that fixing the peak currents will complicate the circuit, especially if you have a lot of steps. And yes, the capacitors will not be very big unless you have a lot of them. While there may be many different ways to power and dim LEDs, I can think of no other continuously dimmable approach with this combination of simplicity and energy efficiency.


Non polarized cap

amoghe
12/5/2012 1:13:06 PM
You can take 2 polarized caps of double the desired value and connect them in series such that both -Ve terminals are connected together. The resulting equivalent capacitor can be used as a Non polar capacitor of desired value. I would use rated voltage on each to be safe and also I have always connected only -ve terminals togther although it may work with both +ve terminals connected as well.


Re: Non polarized cap

armorris
12/5/2012 1:44:07 PM
Here is a 2.2uF, 250v cap from Allied. 70189744 $1.75 in single quantities. I used it in one of my other projects.


That is one cool light you made and I am impressed by your apparent knowledge of all things electronic. What you did is way over my head. My questions: Whenever I read about alternative lighting LEDs are alway associated with high cost, yet you appear to be able to construct this light for a very reasonable sum. Are they coming down in price or are they only cheap for an EE that has the knowledge to build them? How many of the components are made in the USA and are American made components availble? If so, how would that impact on the bottom line?


Re: Drawbacks?

armorris
12/7/2012 10:06:54 AM
Tool_maker, Thanks for the kind words. White superbright LEDs really have gotten cheaper. Most, if not all, are made overseas. I've seen a 27 LED flashlight for $5. All the parts in this project came from Allied Electronics but few, if any, were made in the US. The LED manufacturer has a California address, but I've seen almost identical LEDs elsewhere, for the same price, made in Taiwan. The brightness control pot (R6) is made in Mexico. I think only the 10-ohm carbon composition resistor, R1 is made in the US. That resistor costs $0.45 at Allied, whereas the other (foreign-made) resistors cost $0.015 each.

We can't have it both ways. We can't have cheap products made in the US by people earning high wages.


I'd like to have one of those!





More Blogs from Gadget Freak

6
Learning to play guitar can be a long road. But a group of engineering students is going to show you how to make one that plays itself.

0
Gadget freaks at the Pacific Design & Manufacturing Show in Anaheim next week are in for a special treat: a chance to participate in a slot car competition on the show floor.

1
The 2016 Gadget Freak of the Year is the Attack Dyno created by Colorado State University students Marco Martinez, Logan Rutt, Bryce Goertz, and Robert Coloroso.

8
Ever wanted to see light beyond what's detectable by the human eye? You can with DOLPi - a homemade Raspberry Pi-based polarization camera. You can even use it to detect unseen objects like landmines, IEDs, pollutants, and maybe even UFOs.

6
A Design News contributor takes on the challenge of building an old-fashioned metric clock that uses French Revolutionary time, which divides the day into decimal units, and shows you how to build your own.
Design News Webinar Series
1/28/2016 11:00 a.m. California / 2:00 p.m. New York
12/8/2015 11:00 a.m. California / 2:00 p.m. New York
2/18/2016 11:00 AM PT | 2:00 PM ET
2/24/2016 11:00 AM PT | 2:00 PM ET

Focus on Fundamentals consists of 45-minute on-line classes that cover a host of technologies. You learn without leaving the comfort of your desk. All classes are taught by subject-matter experts and all are archived. So if you can't attend live, attend at your convenience.