Sylvie Barak created a custom pair of earmuff headphones to keep her ears warm while she listens to her music. She bought a pair of cheap headphones and hacked into them to cut out the speaker. Once the speakers were out, the speaker wires were soldered to the plug connections and the jack. She sewed the speaker into a faux fur muff, and a PCB board was added for support. The speaker muff was attached to a headband wrapped in fabric to complete her funky stereo earmuffs. Sylvie says the headphones can be customized in many ways and is even considering incorporating them into a hoodie.
The project was presented at DESIGN West.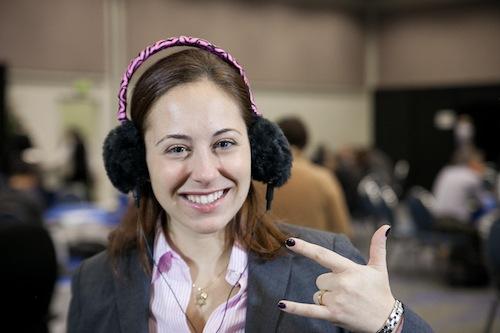 Read more Gadget Freak cases here
Table 1: Allied Parts List

Table 2: Secondary Parts List

| | |
| --- | --- |
| Amt | Description |
| 2 | PCB Boards |
| 1 | Pair of Headphones |
| 1 | Headband |
| 2 | Faux Fur Circles |
The editors of Design News have handpicked your favorite Gadget Freak cases from over the years, bringing them together in a dynamic digital edition, complete with videos, which you can view here.