Here's a recycling can designed to increase the quantity and quality of recycled material. Peter Riedo, along with members of his mechatronics lab group at Colorado State University, created the recycling gadget.
You can enter your material by scanning it, or by manually entering the garbage code via a touchscreen. Once you enter the material type, an RC servomotor opens the trash flap, allowing the material to go in the can -- you can even program a song for the trash-flap dance. The gadget also comes with a help menu on the touchscreen and a confirmation sound after the waste is deposited.
Click the image below to start the slideshow: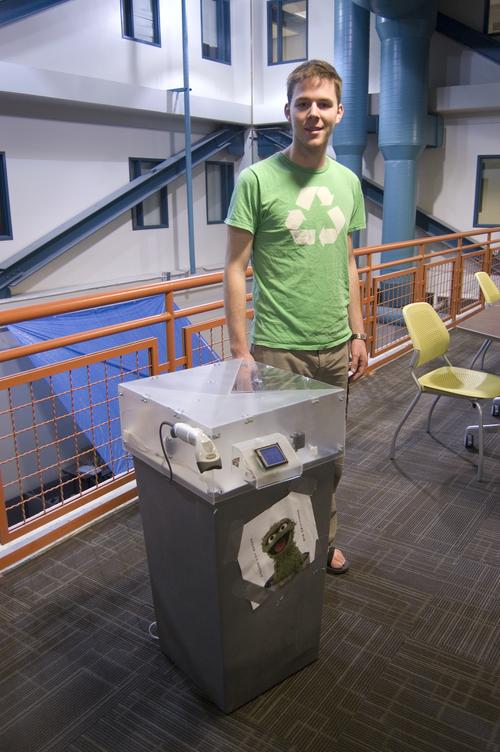 Do you have a Gadget Freak project you would like the world to see? Send a brief description of your gadget and a photo to Senior Editor Rob Spiegel.
Table 1: Allied Parts List

Table 2: Secondary Parts List

| | |
| --- | --- |
| Quantity | Description |
| | |
| 1 | Output display/manual data input -- 128x64 GLCD 4-wire resistive touch panel |
| 1 | Touch panel controller |
| 1 | Audio output device -- digital recording module |
| 1 | Automatic data input -- PS/2 barcode scanner |
| 4 | Actuators and power -- DC servo motors |
| 1 | Actuators and power -- 5v 180mA power supply |
| 2 | 1/8-inch clear acrylic sheet |
| 1 | 48-inch square trash can |
The editors of Design News have handpicked your favorite Gadget Freak cases from over the years, bringing them together in a dynamic digital edition, complete with videos, which you can view here.