The Window Watcher stops the burglar before he does damage or enters the house. House alarm service companies set off alarms and call the service only after the burglar has damaged and entered the house.
Window Watcher employs an infrared passive thermal detector with a very narrow beam. The simple device is housed in a standard plastic electrical box along with a loud piezo audio sounder and 9V battery. It is mounted above the windows to surprise the burglar as he (or she) approaches the window.
Click on The Window Watcher to see more photos and a wiring diagram.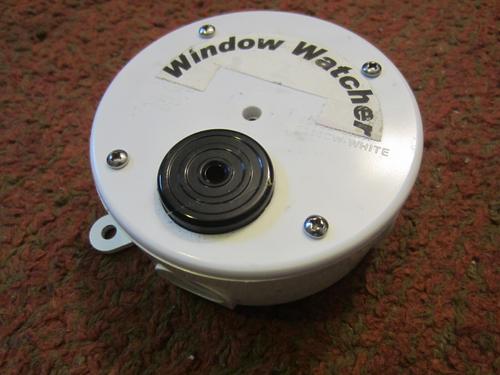 In a typical burglary attempt the burglar will find a window where he (or she) feels secure and out of sight. The burglar walks to the window to break in. With Window Watcher installed, he/she is greeted with a very loud alarm just above his/her head. Now the burglar's secure location no longer feels secure. In most cases this person will leave to find another house to invade. He/she has not damaged or entered this house.
Window Watcher can be easily assembled by anyone with a soldering iron and simple tools. The only thing important is the lens, which is actually a simple hole cut in a piece of plastic. It works much like the old pinhole camera, providing a very narrow (2-ft-wide) field of sensitivity under the window. The life of the 9V battery is more than one year.
Table 1: Allied Parts List

Table 2: Non-Allied Parts List

| | |
| --- | --- |
| Amount | Description |
| 1 | Round Plastic Electrical Box |
| 1 | Round Plastic Box Cover |
| 1 | tube of adhesive "Goop" |
| 1 | Velcro strips |
| 1 | old credit card for the thin plastic |
| 1 | cellophane to cover the hole |
Do you have a Gadget Freak project you would like the world to see? Send a brief description of your gadget and a photo to Executive Editor Jennifer Campbell.
Check out the Best of Gadget Freak -- Volume 2 Technology Roundup to see some of the best gadgets that your peers have created.
When you are finished, be sure to check out Best of Gadget Freak: Vol. 1.