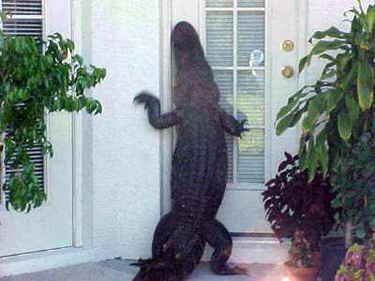 Sometimes things just fall into place.  In a weird sort of way.  I'm trying to write a quick column tonight because I have to get ready for an alligator hunting trip next week.  Really.  I haven't hunted much before but my long time pal Steve does it all the time.  We've been entering the drawing for years, and this year we finally got picked.  I get off the phone with him and start hitting my favorite sites looking for gadgets to write about.  Over on hackaday I found a pointer to a video of a guy who built a flame throwing trombone.  To bring it full circle my alligator hunting pal Steve is a former trombone player, although (as far as I know) not of the flame throwing variety.  Maybe that's all a stretch but I thought it was an interesting synchronicity.
Another pal Chris will appreciate this column as well, but not because he's a trombone player.
Anyway,  Jonathan Crawford scrounged up an old trombone, fitted it with a propane tank, drilled out torch, and BBQ spark igniter.  The rest you can imagine, but you won't have to, because there's a video of it on youtube.
Steve Ravet
Design News Gadgeteer



More Blogs from Gadget Freak

6
When Dick Neubert discovered that his fireplace's heatilators lost heat when not in use, he created a gadget to rectify the situation.

2
The final showdown is under way in our first-ever Gadget Freak of the Year contest. Who will win an all-expenses-paid trip to the Pacific Design & Manufacturing Show? It's up to you, dear readers, to tell us.

16
Meet the winners from the six rounds of Gadget Freak of the Year semi-final competitions. The winner of this group becomes Gadget Freak of the Year.

14
After six rounds of voting, it comes down to this -- the final showdown. Who created the best gadget featured in Design News this year? We're counting on you to tell us.

18
Marin Davide has developed a digital stick for the blind that's designed to cost the same as a traditional stick.


LATEST ARCHIVED BROADCAST
For industrial control applications, or even a simple assembly line, that machine can go almost 24/7 without a break. But what happens when the task is a little more complex? That's where the "smart" machine would come in. The smart machine is one that has some simple (or complex in some cases) processing capability to be able to adapt to changing conditions. Such machines are suited for a host of applications, including automotive, aerospace, defense, medical, computers and electronics, telecommunications, consumer goods, and so on. This discussion will examine what's possible with smart machines, and what tradeoffs need to be made to implement such a solution.



Datasheets.com Parts Search
185 million searchable parts
(please enter a part number or hit search to begin)